Renato Leotta is an Italian artist based between Acireale (Sicily) and Turin. His work is the result of a careful process of observation. Taking a place or a landscape as a subject, he attempts to document the natural landscape by employing an array of mediums, including conventional photography, video, painting, and archival material. The artist explores the interplay between the ocean, sky, and land, striving to establish a dialogue between the real and ideal world.
Leotta's exhibitions include MACTE, Termoli, Italy (2022); Castello di Rivoli Museo d'Arte Contemporanea, Turin (2020); Galleria Fonti; Naples (2019 & 2015); Magazzino Italian Art and Casa Italiana Zerilli-Marimò, NY (2019); Kunst Halle Sankt Gallen (2018); Madragoa, Lisbon (2017 & 2016), among others. Group exhibitions include MAXXI, Rome (2021); Fundaciòn Santander, Madrid (2019); Gropius Bau, Berlin (2019); Palazzo Fortuny, Venice (2018); MASP, São Paolo, Brazil (2018); Manifesta 12, Palermo (2018); Madre, Naples (2017) Le Galerie Centre d'Art Contemporain, Noisy-le-Sec, France (2016); BOZAR, Bruxelles (2015), among others. Leotta is co-founder of CRIPTA747 and in 2021 he founded Istituto Sicilia, a platform of research focused on Mediterranean landscapes. In 2019 he was the Italian Fellow at the American Academy in Rome and in 2022 he participated at the 17th Istanbul Biennial.
CONCERTINO (2022)
Sound and mixed-media installation
Edition of 3 + 1 AP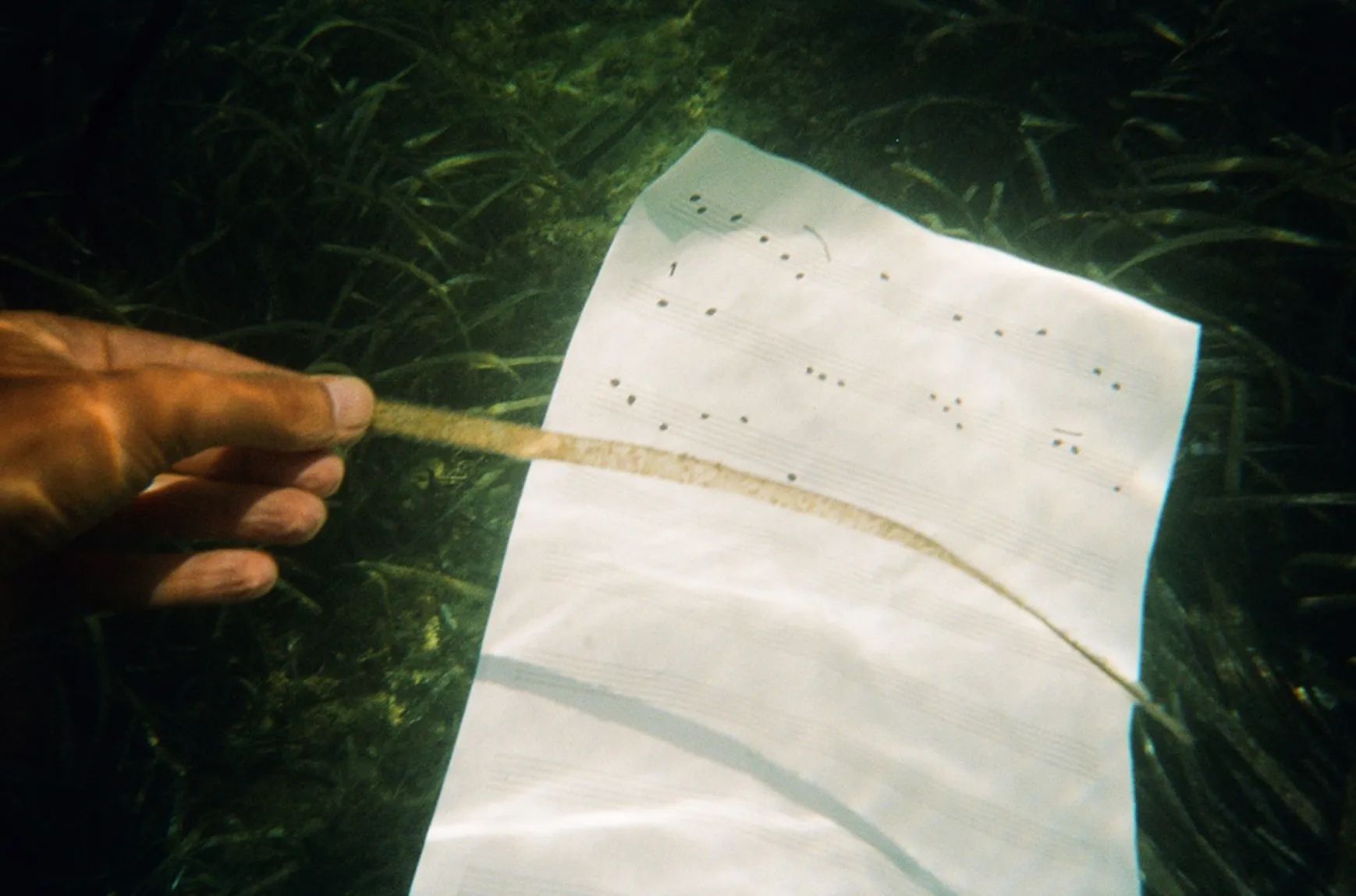 Archive Renato Leotta
CONCERTINO is the result of Leotta's extensive research on Posidonia Oceanica, an aquatic plant endemic throughout the Mediterranean. The plant evolved some 100 million years ago from land to the sea and is now considered a biological indicator of seawater health.
The artist assembled an archive of leaf specimens from among other the Balearic Islands, Dodecanese, Tunis, Alger, Oran, Monaco, Valencia, Beirut, Alexandria, Siracusa and Lycia, composing a portrait of the current state of the ecosystem of the present-day Mediterranean sea.
The leaves were in turn translated into a musical score, performed by various instruments (oboe, flute, duduk, ney, trumpet, flugelhorn, bassoon, clarinet, whistle, piccolo) which were recorded individually and adapted into a multi-instrumental and multi-channel installation. Through this process of rarefaction, Leotta uses the plant as a pretext to reconfigure the image of the sea and turns the living material into a polyphonic concert that echoes the ever-changing nature of the sea.
Renato Leotta's poetic sound and plant installation suggests the agency that art, poetry and music have to imagine a new relationship with energy: to explore and reimagine new Mediterranean cultures beyond the Europe/Africa divide through the potentiality of the sea and the natural world's production of oxygen.

— Carolyn Christov-Bakargiev
The work was selected by the Commissioning Committee 2021/23 and acquired through the Hartwig Art Production | Collection Fund. It will subsequently be donated to the Dutch state, becoming an integral part of the national art collection ('Rijkscollectie'), available for institutions in the Netherlands and abroad.