Joy Mariama Smith is a native Philadelphian (US) currently based in Amsterdam. They are a movement artist, activist and educator, with work rooted in socially engaged art practice that focuses on issues related to visibility, projected identities and self-representation. Through their dance, performances, and installations, they investigate the interplay between the body and its cultural, social and physical environment .
Consent and agency are integral parts of their practice. Smith has a strong improvisational practice spanning 20 years and has been active as performance/installation/movement artist, activist, facilitator, curator and architectural designer. When they choose to teach, they actively try to uphold inclusive spaces.
They studied at the Dutch Art Institute in Arnhem; the NewSchool of Architecture & Design in San Diego; L'École Internationale de Théâtre Jacques Lecoq in Paris; and Oberlin College in Ohio. Their work has been performed internationally, including at If I Can't Dance Edition VI – Event and Duration, Amsterdam; SoLow Festival, Philadelphia; Freedom of Movement, Stedelijk Museum Amsterdam; and Ponderosa Movement & Discovery in Stolzenhagen, Germany. They were a 2019-2020 Fellow at BAK, Utrecht, and currently teach at the School for New Dance Development (SNDO) in Amsterdam.
Black Joy/White Fragility (2021)
Performance installation
Two modes: activated (as a durational performance) and non-activated (as an installation)
Pink neon sign, 2 crystals & disco ball (fixed elements)
Dimensions variable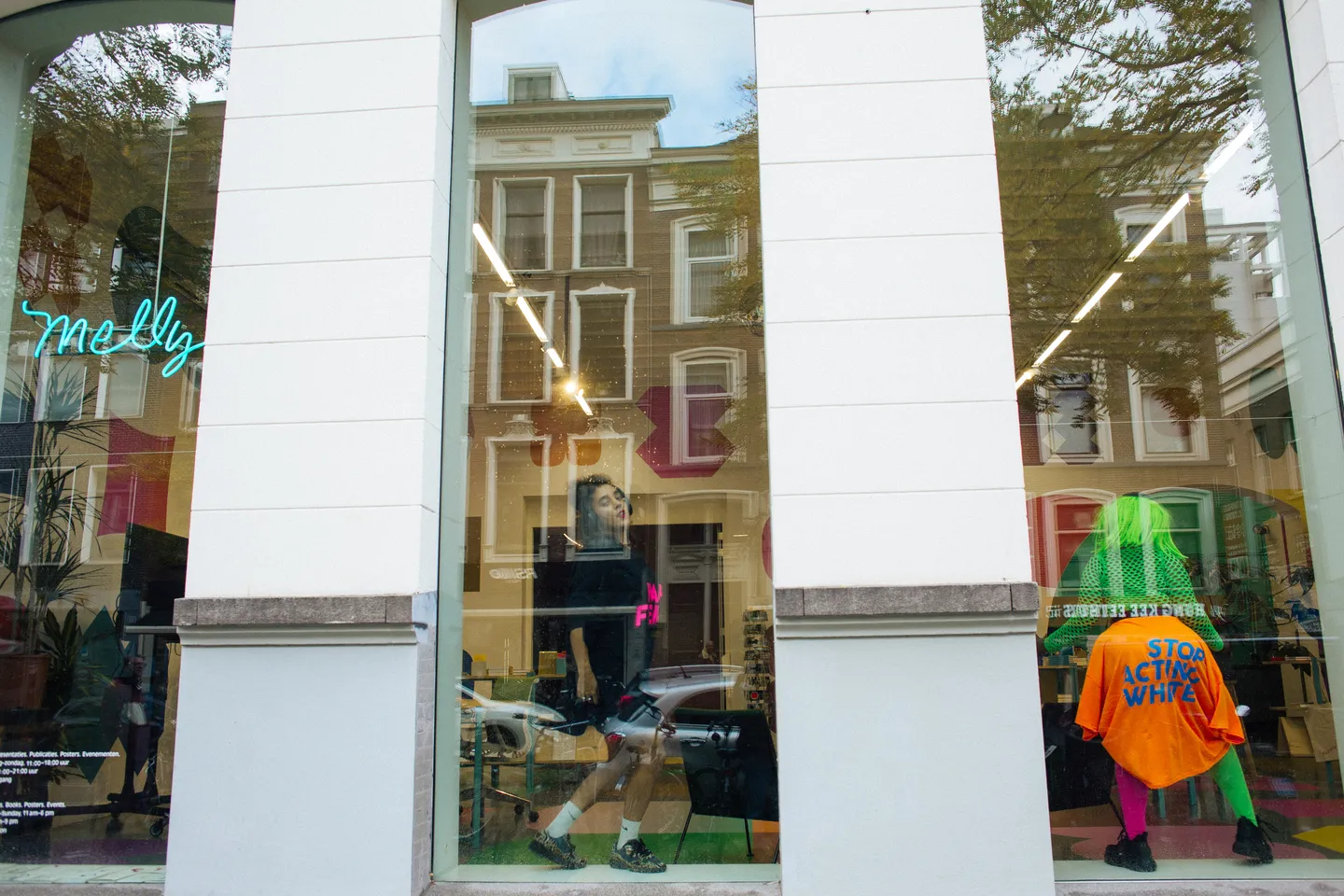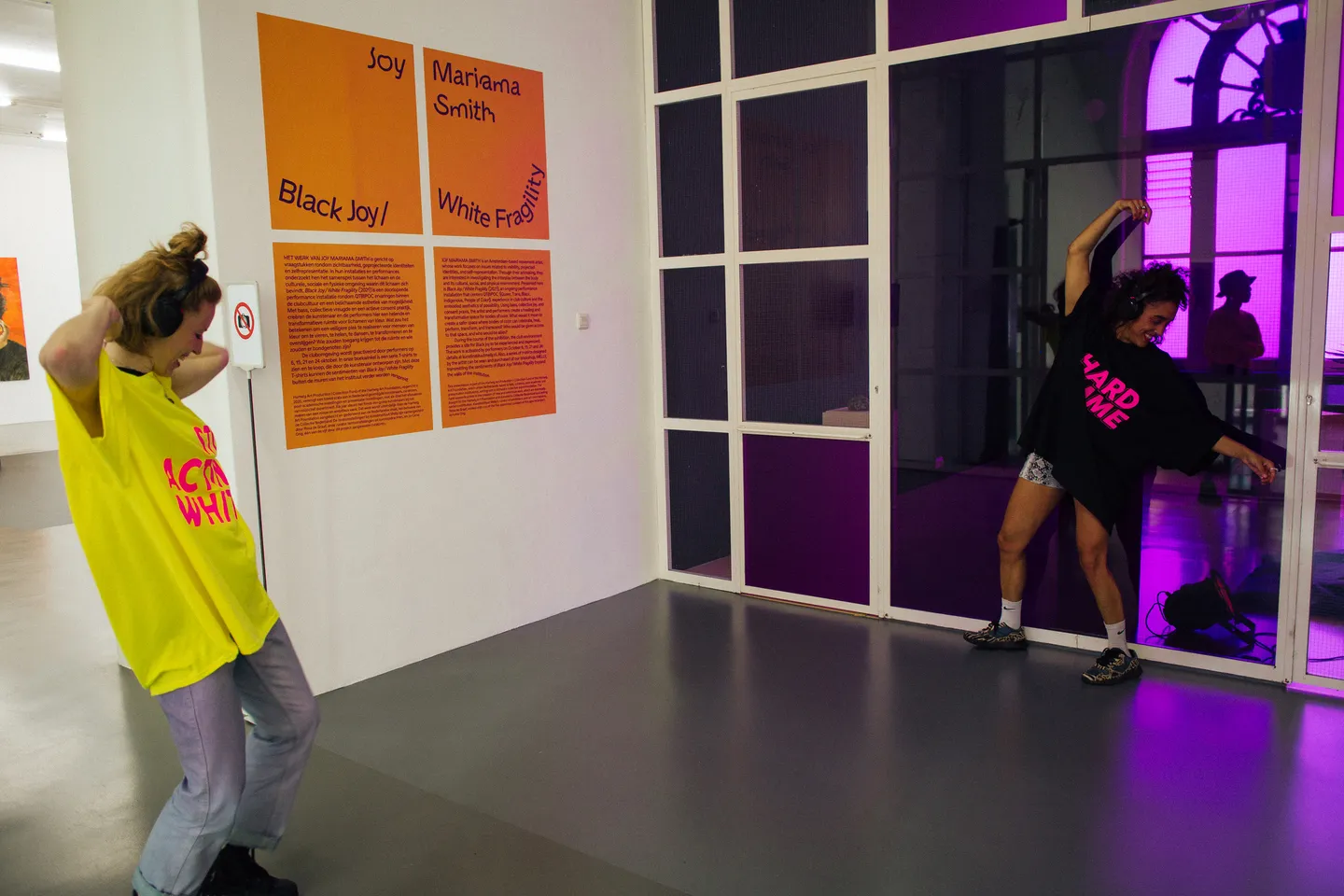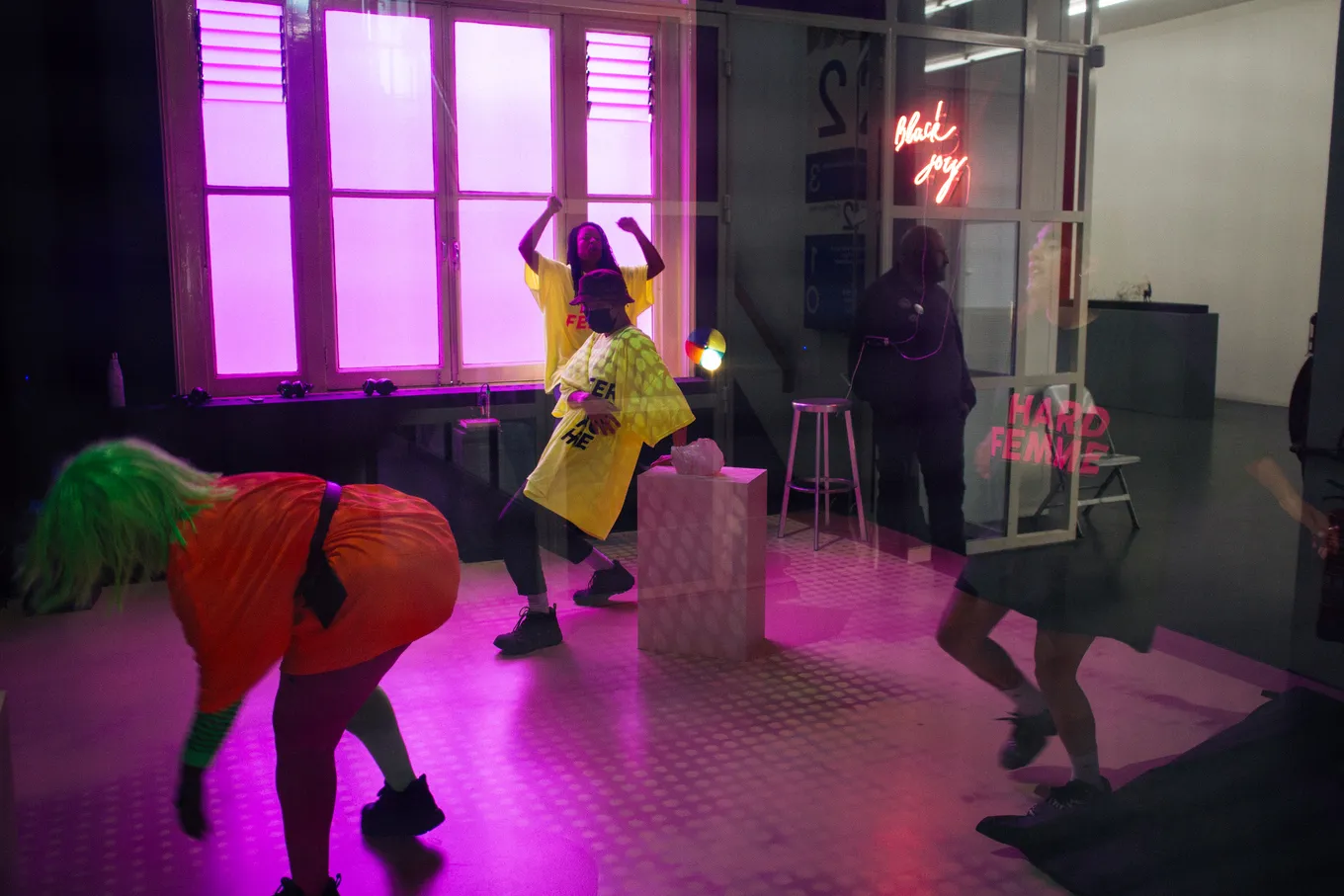 Black Joy/White Fragility is a performance installation that centres QTBIPOC* experience in club culture and the embodied aesthetics of possibility. The installation transforms the (institutional) context in which it is presented into a hybrid social container, reminiscent of a DIY/underground club space. The design of this space is based on spaces in (various) subcultures, that are built, held, and inhabited by those in the margins. Using bass, collective joy and consent praxis, the artist and performers collectively create a healing and transformative space for bodies of colour.
The activated mode is a celebratory and excavational site-specific performance installation that provides a site for Black joy to be experienced and expressed. QTBIPOC performers dance together to various genres of club music, mixed by several DJs, in an unrestricted sociality. Simultaneously, all cast members support the work, while disrupting the daily life of the museum.
Black Joy/White Fragility was produced in the context of the Special Project 2020/21 and exhibited for the first time at Kunstinstituut Melly (1 – 24 Oct. 2021). In the context of this exhibition, the artist also designed a series of t-shirts as an extension of the work to propagate the sentiments of Black Joy/White Fragility beyond the walls of the institution. The installation version of the work has been acquired and donated to the Rijkscollectie and will be available for future loans in combination with its activated (performative) mode.
*(Queer, Trans, Black, Indigenous, People of Color)