Grada Kilomba, born in Lisbon of West African descent, is a Portuguese artist and writer. Her oeuvre draws on memory, trauma, gender and post-colonialism, interrogating concepts of knowledge, power and violence. Strongly influenced by the work of Frantz Fanon, she initially studied clinical psychology and psychoanalysis at the Instituto de Psicologia Aplicada (ISPA). While practicing as a psychologist in Portugal, she worked with war-traumatised people from Angola and Mozambique and initiated various artistic and therapeutic projects on trauma and memory.
Grada Kilomba received a scholarship from the Heinrich Böll Foundation to pursue her PhD, completed at the Free University of Berlin (2008), where she also worked as a guest lecturer. She went on to writing and publishing fictions before extending her artistic practice to performance, scenic reading, video, photography, and installation. Kilomba subversively translates text into image, movement and installation by giving body, voice and form to her own critical writing.
Kilomba's work has been presented in major international exhibitions such as La Biennale de Lubumbashi VI; the 10th Berlin Biennale; Documenta 14, Kassel; and the 32. Bienal de São Paulo. Selected solo and group exhibitions include the Pinacoteca de São Paulo; Kadist Art Foundation, Paris; MAAT-Museum of Art, Architecture and Technology, Lisbon; Bozar Museum, Brussels and Castello di Rivoli Museo d'Arte Contemporanea, Rivoli-Turin. Kilomba has lectured at various international universities and for several years was a guest artist at the Maxim Gorki Theatre, in Berlin, developing Kosmos 2, a political intervention with refugee artists. She is the author of the acclaimed Plantation Memories (Unrast, 2008), a compilation of episodes of everyday racism written in the form of short psychoanalytical stories. Together with Manuel Borja-Villel, Diane Lima and Hélio Menezes she is curator of the 35th Bienal de São Paulo (2023).
18 Verses (2021-2022)
Charcoaled wood, gold leaf, fabric and sound
Dimensions variable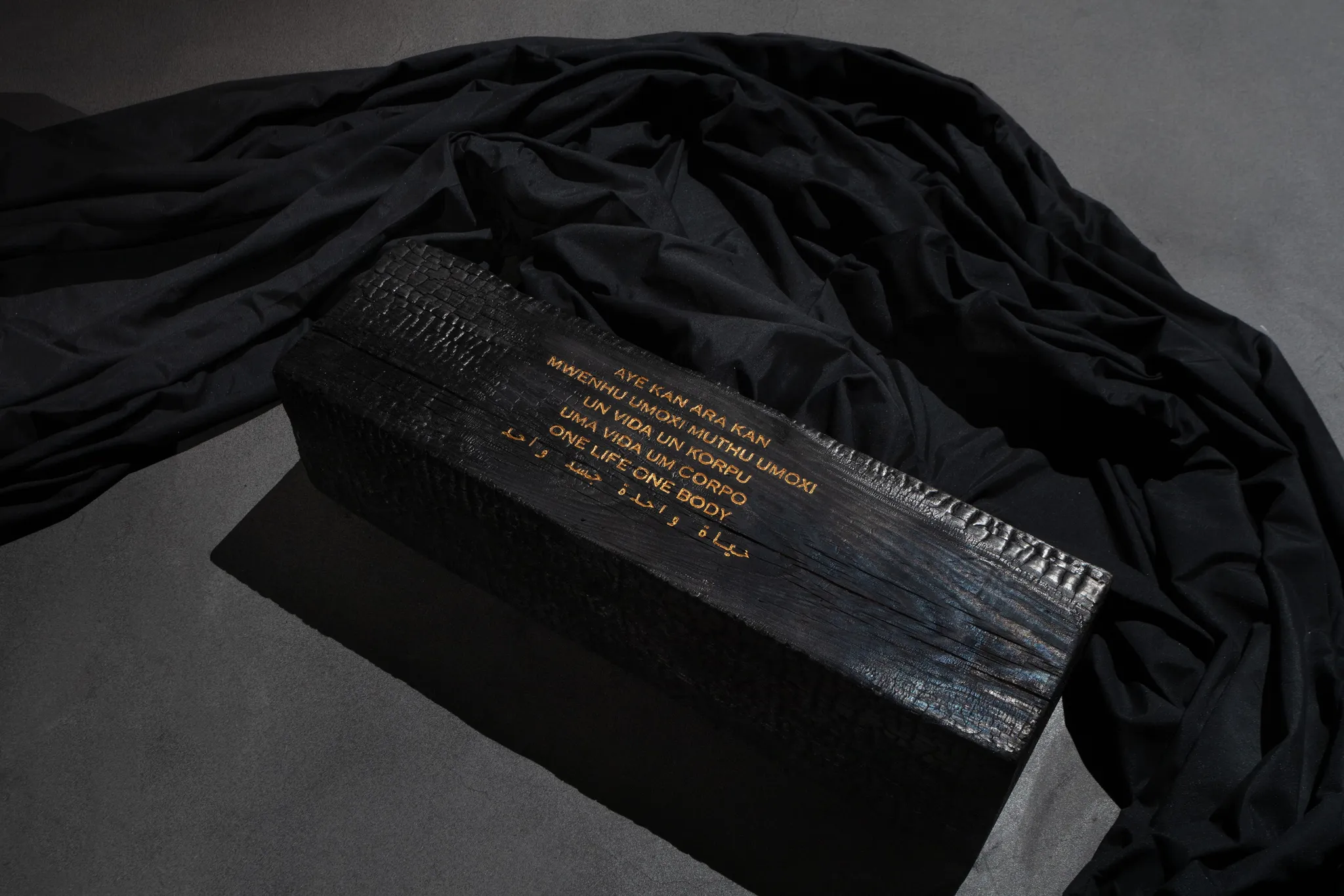 Installation view Grada Kilomba, 18 Verses (2021-2022), exhibition Espressioni con frazioni, Castello di Rivoli Museo d'Arte Contemporanea, Rivoli-Torino, 2022. Photo Sebastiano Pellion di Persano.
18 Verses is based on a poem written by the artist that combines past, present and future, while pointing to the repetition of systemic racism by referencing the boats used in slave trade, and more recently in displaced populations over the Mediterranean.
In an era of melancholy post-humanism such as our own, Grada Kilomba's work suggests the need for art to imagine a new non-digital climate: to explore the human condition while also creating cosmogonies based on continuities between the human and the non-human natural world.

 — Carolyn Christov-Bakargiev