Em'kal Eyongakpa was initially trained as an ecologist and botanist at the University of Yaoundé 1, before following the residency programme at the Rijksakademie voor Beeldende Kunst. He works primarily with sound and draws his ideas from indigenous knowledge systems, ethnobotany, applied mycology and technology.
His work raises questions about the environment, identity and freedom. His native country Cameroon was subject to German colonial power until after the First World War and divided between France and the United Kingdom until after 1961, which is why Eyongakpa investigates the way political structures from the past still affect society today. In his studio in the Bijlmer, which is filled with sound equipment and home-made instruments, he makes music and sound compositions together with artists, scientists and local friends. Eyongakpa is also known for itinerant research spaces and autonomous art hubs: KHaL! SHRINE (Yaounde, 2007-2013) and Bɔɔ Bɛtɔk/ ɛfúkúyú (Amsterdam, 2017-present).
Untitled XXXI/I – babhi-manyɛp/ babhi-bawɛt, (mbaŋ) (2021)
Sound sculpture
Dimension variable
Edition of 3 + 2 AP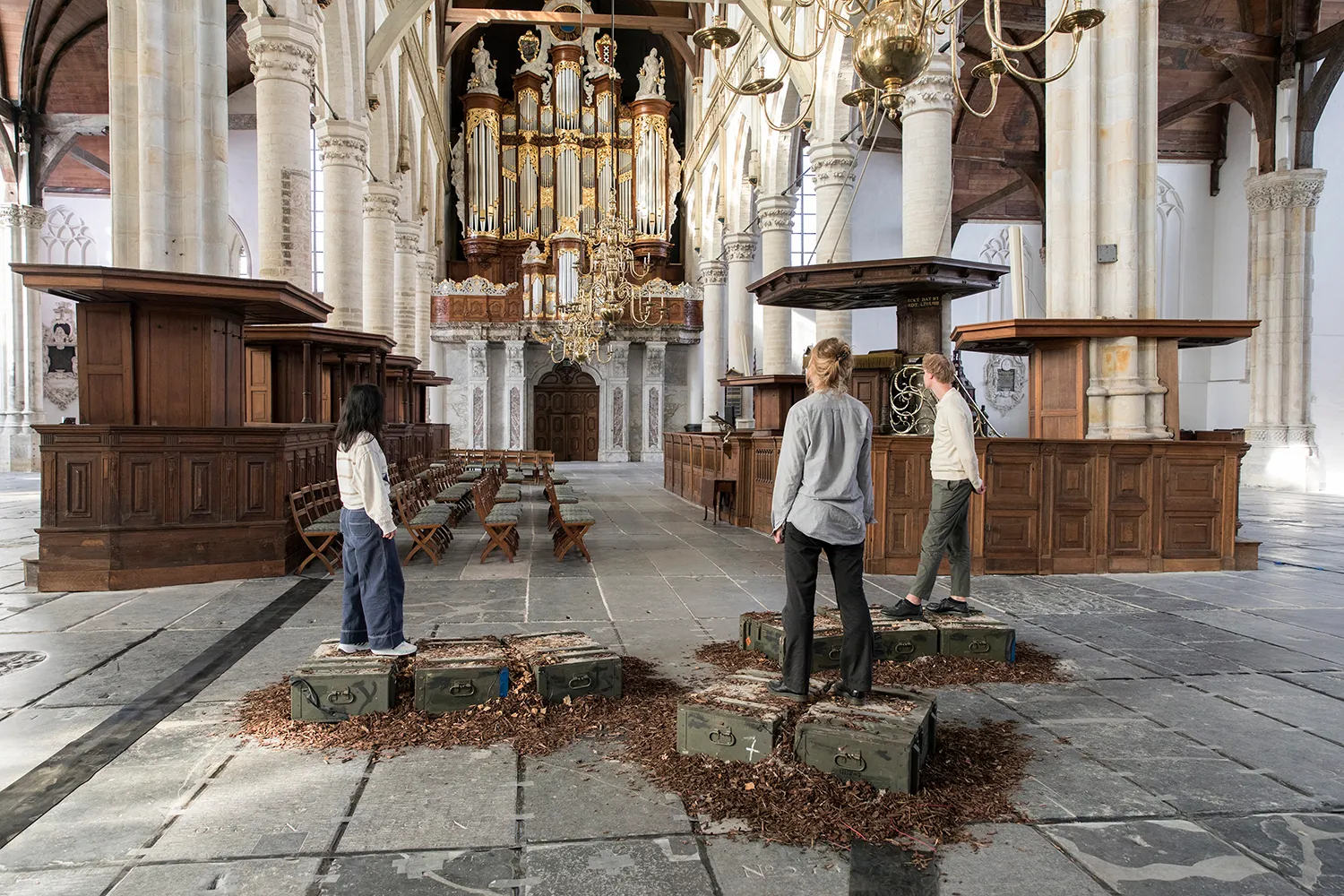 Installation view Em'kal Eyongakpa, babhi–bεrat 21r (2021), Oude Kerk (Amsterdam). Photo: Franz Mueller Schmidt. All rights reserved by Hartwig Art Foundation.
Untitled XXXI/I – babhi-manyɛp/ babhi-bawɛt, (mbaŋ) (2021) is a multichannel sound sculpture that resonates throughout the exhibition space via pulsating wooden platforms. The platforms form a path onto which visitors can walk. They transcribe the unprocessed sound recordings the artist made during nightly rides/processions through the city of Amsterdam into a physical sound experience. The work is a fragment from babhi-manyɛp/babhi-bawɛt (series title: mbaŋ). Translated from Kɛnyaŋ, a language widely spoken in Manyu (South-west of present-day Cameroon), Mbi means 'path' or 'route', (plural: babhi), Bawɛt means oil, and manyɛp refers to water. Put together, babhi-manyɛp/ babhi-bawɛt would translate as 'water ways'/ 'oil ways', 'routes'. 
The work premiered at the Oude Kerk in Amsterdam (18 Sept. – 26 Sept. 2021) in the context of the Special Project 2020/21. With this work, nature and outdoor sounds found their way into the space of the Oude Kerk. The routes where Eyongakpa made the recordings include locations and streets that suggest historical and conceptual connections to resistance movements linked to water, natural gas/oil, and other resources from the Gulf of Guinea and beyond. Building on the idea of shared space and land, the artist interweaved these thoughts with the shared space of the Oude Kerk.