In their collaborative practice, the artists Rugilė Barzdžiukaitė, Vaiva Grainytė & Lina Lapelyte pay particular attention to the relationship between documentary and fiction, reality and poetry by overlapping theatre, music and the visual arts. Their first collaborative work, the contemporary opera Have a Good Day! for 10 cashiers, supermarket sounds and piano, premiered in 2013. In 2019, they represented Lithuania at the 58th Venice Biennale with the opera-performance Sun & Sea (Marina), which was awarded with the Golden Lion for Best National Participation.
Rugilė Barzdžiukaitė is a Vilnius-based filmmaker, theatre director and visual artist. In her creative practice, Barzdžiukaitė explores the gap between objective and imagined realities, while challenging an anthropocentric way of thinking in a playful way. Her recent full-length documentary film-essay Acid Forest was awarded at the Locarno International Film Festival among others, was shown at the National Gallery of Art in Washington, Lincoln Center in NYC, American Film Institute festival in LA and many other events and venues for cinema and contemporary art. Sun & Sea is her latest collaboration in the medium of performance.
Vaiva Grainytė is a writer, playwright and poet based in Lithuania. Her text-based practice shifts between genres, interdisciplinary theatre works and publications. In her work she acts as an observant anthropologist: challenged by Grainytė's poetic interpretation, mundane social issues take on a paradoxical and defamiliarised nature. Her book of essays Beijing Diaries (2012) and the poetry collection Gorilla's Archives (2019) were nominated for the Book of the Year awards, and included in the top twelve listings of the most creative books in Lithuania. Her oeuvre has been translated into over 10 languages. Her bilingual, cross-genre novel, Roses and Potatoes (2022), playfully and phantasmagorically deconstructs the stereotypical concept of happiness embedded in contemporary culture.
Lina Lapelytė is a performance artist based in Lithuania. Her practice is rooted in music and flirts with pop culture, gender stereotypes and nostalgia. Lapelytė's works engage trained and untrained performers often in an act of singing that takes the form of a collective and affective event questioning vulnerability and silencing. She had solo shows at FRAC, Nantes; Lafayette Anticipations, Paris; Rupert, Vilnius. Her works have been exhibited or performed at the 13th Kaunas biennial, Haus der Kunst, Munich; Kunstenfestivaldesarts, Brussels; Tai Kwun, HK; Glasgow International; Riga Biennial - RIBOCA2; Lithuanian Pavilion at the 58th Venice Biennale; Cartier Foundation, Paris; CCA Ujazdowski, Warsaw; Baltic Triennial 13, Tallinn; Moderna Museet, Malmö; FIAC, Paris; Hayward Gallery Touring, UK; Serpentine, London.
Sun & Sea Listening House (2022)
Mixed media installation
Wooden cabin (2.5 m x 2.5 m x 2.5 m), found objects, sound (67' loop)
Dimensions variable
Edition of 3 + 3 AP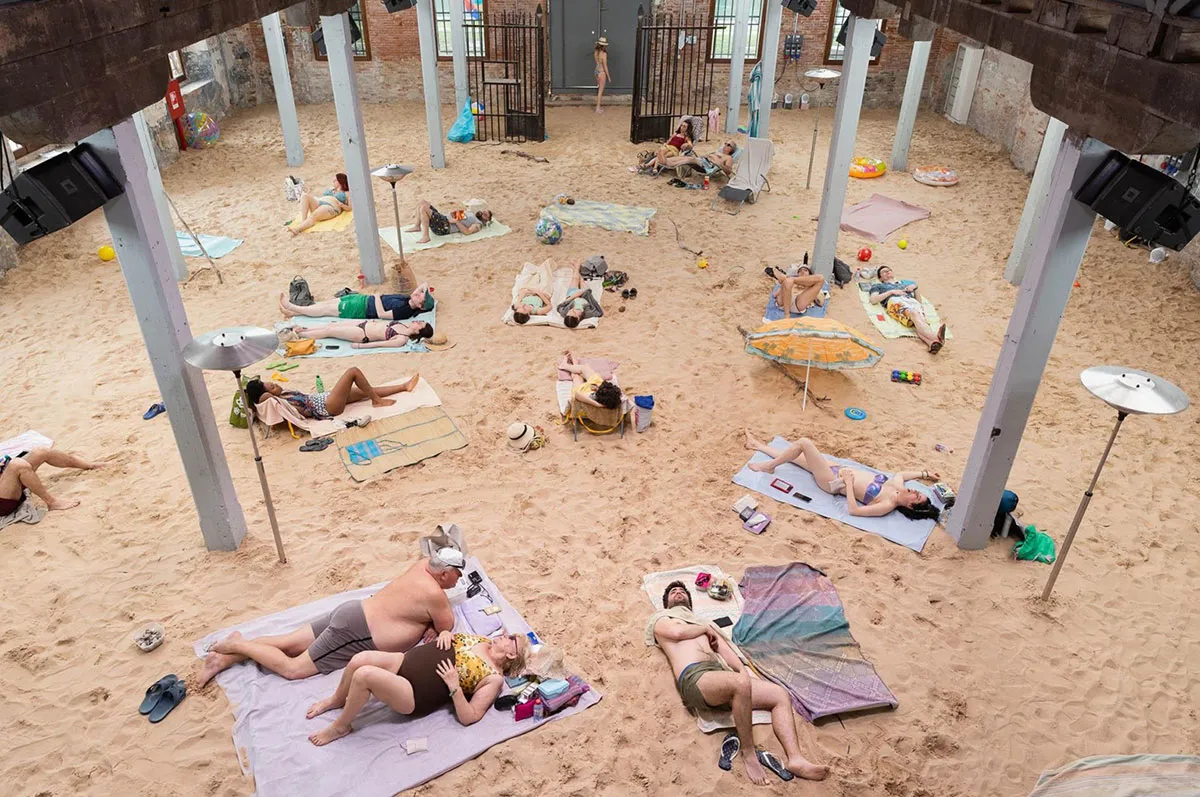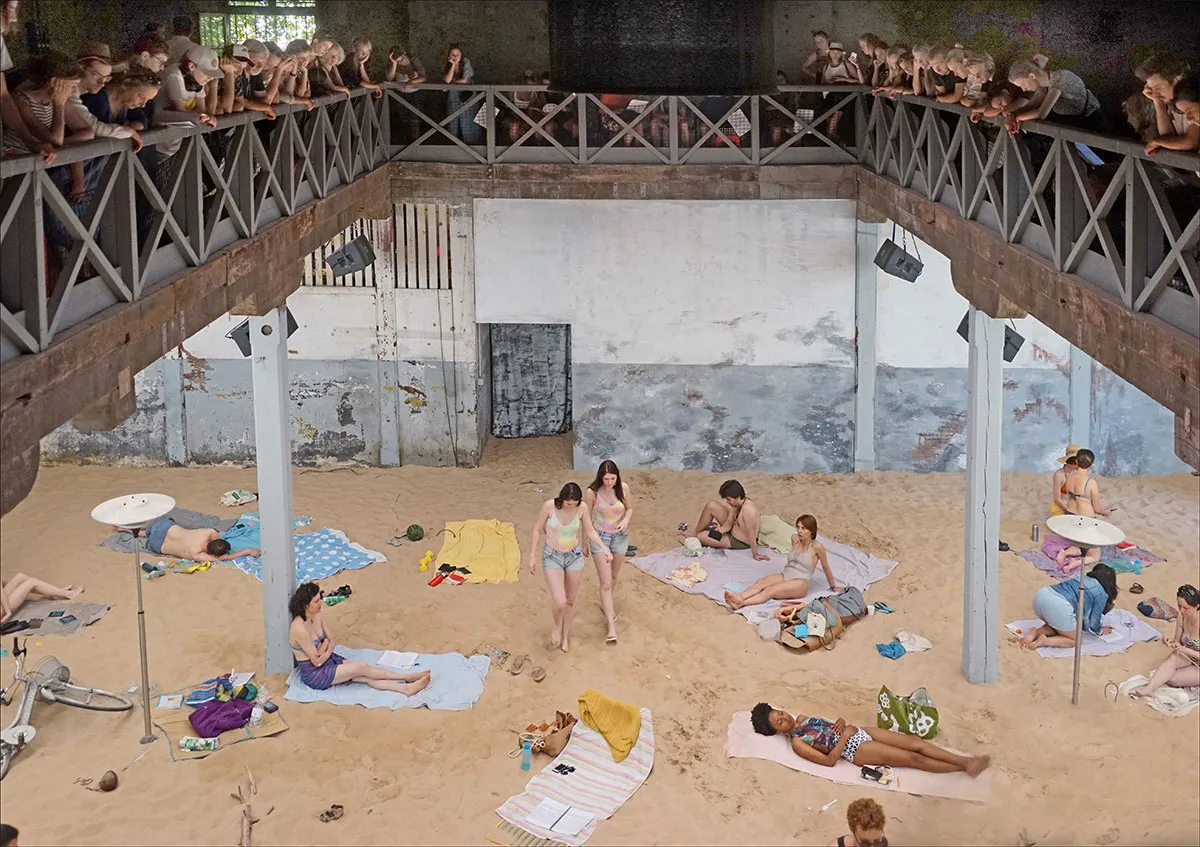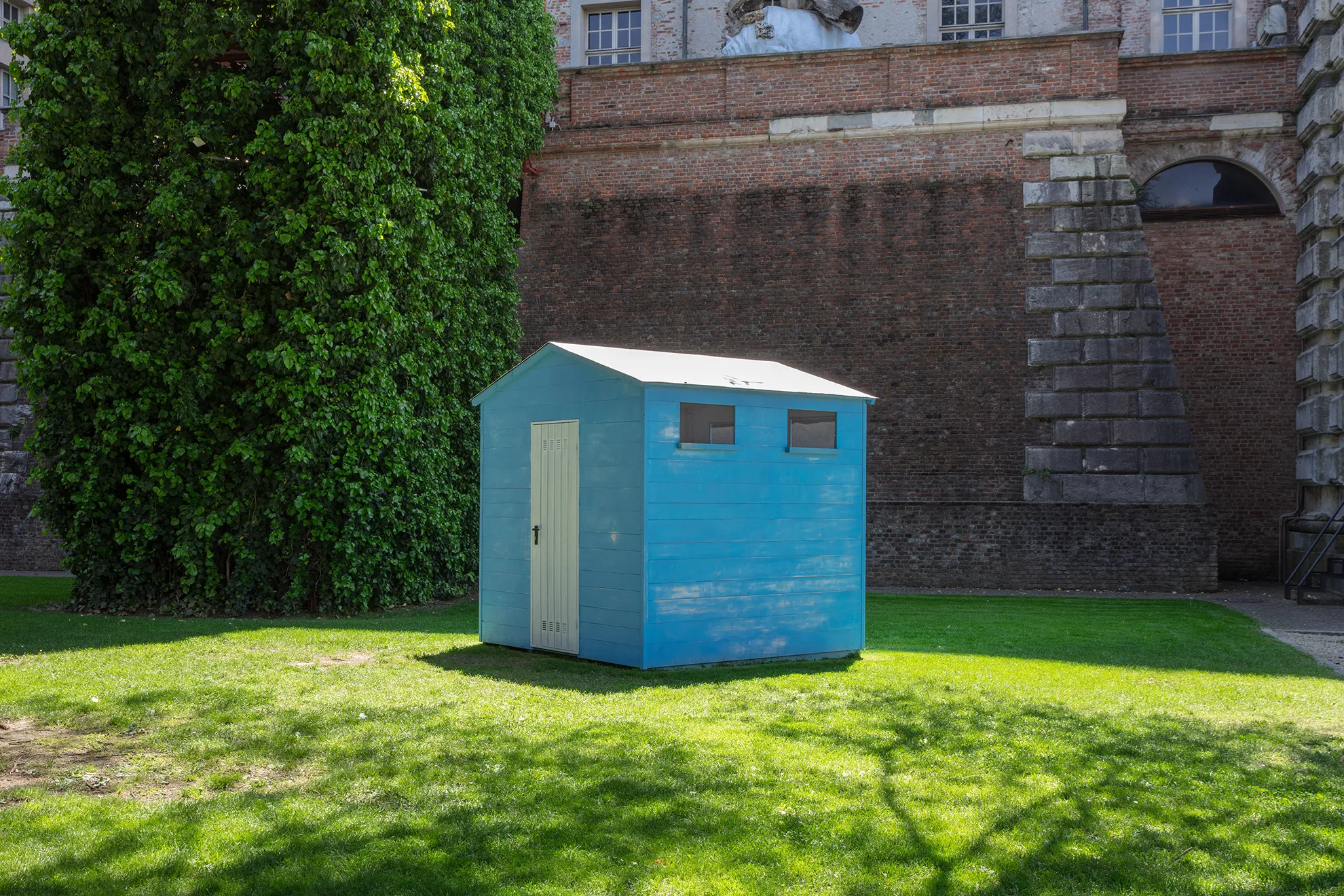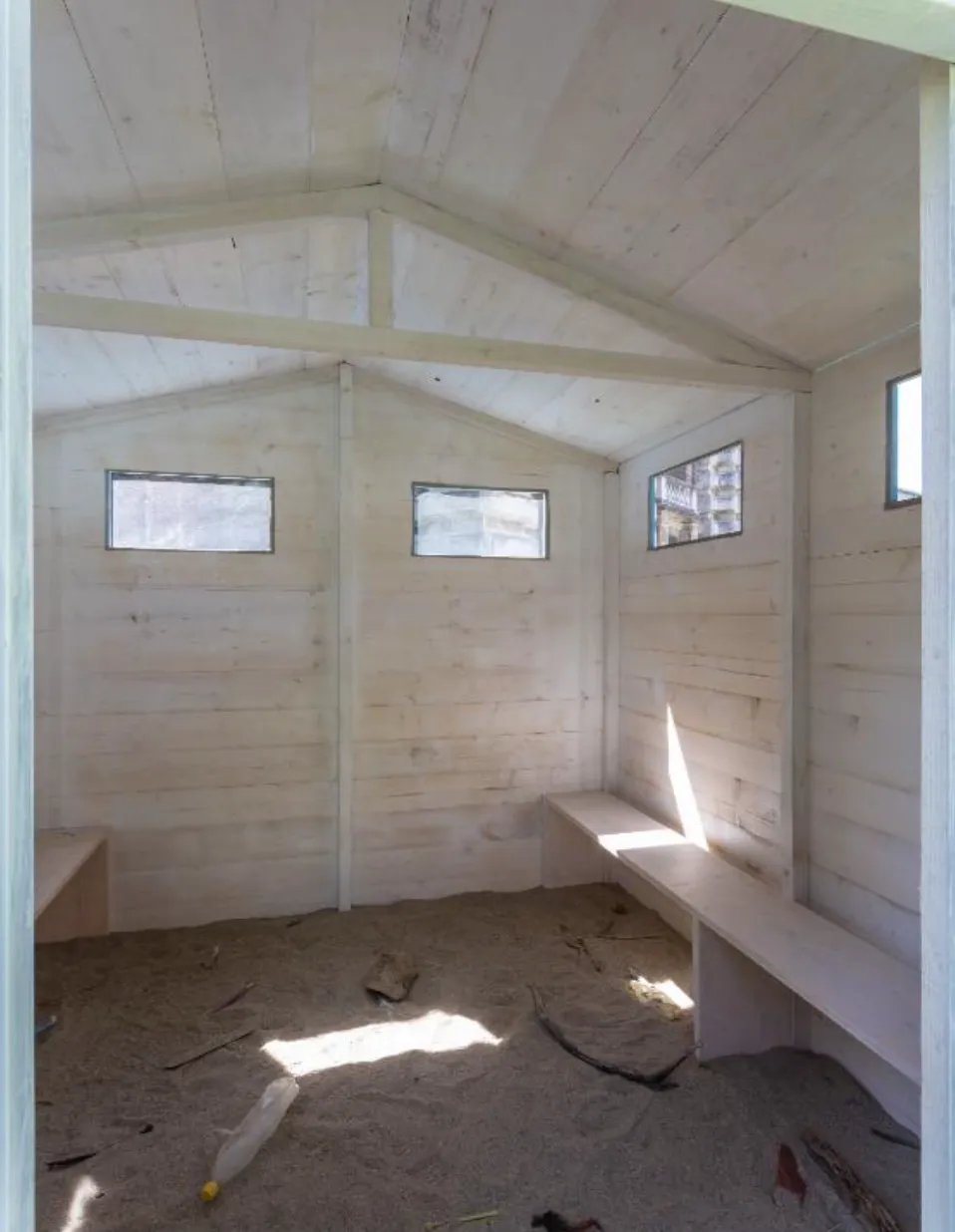 Sun & Sea Listening House derives from of the original version Sun & Sea (Marina) presented in 2019 at the 58th Venice Biennale. The opera-performance, viewed from a balcony looking down a sandy beach with holidaymakers casually sunbathing and singing, tackles the pressing issue of climate emergency in a humoristic yet impactful manner.
The Listening House features a replica of a solitary beach cabin, which is meant to be placed outdoor, and houses the captured bits of the opera-performance originally performed in Venice. The booth suggests not only the isolated attendance of a listener, but also the private engagement in nostalgia and the karaoke of a memory. A single vinyl spinning the wheel of recorded voices in a wooden room invites one's being to embrace pandemic and post pandemic existences.
In the context of societal collapse and endtimes caused by human-induced climate crises and world pollution such as our own, the playful yet dramatic performative opera Sun & Sea (2019) became a milestone reflection on the anthropocene. This pocket installation version inside a beach cabin offers a physical installation version of the work for solitary listeners who can retreat from the outdoor world onto an indoor beach where they are protagonists and no longer audience in a memory theatre which is an elegy to a lost world of ecological balance.

— Carolyn Christov-Bakargiev
The work was selected by the Commissioning Committee 2021/23 and acquired through the Hartwig Art Production | Collection Fund. It will subsequently be donated to the Dutch state, becoming an integral part of the national art collection ('Rijkscollectie'), available for institutions in the Netherlands and abroad.