Sara Sejin Chang (Sara van der Heide) is a Busan-born (KR), Korean-Dutch artist. Her body of work traverses an array of formats and mediums, including film, writing, immersive installations, performances, and painting. Chang combines spiritual evocations, historical research and the unraveling of colonial narratives in works that act as historical repair, healing and belonging. Through her artistic practice, Chang has questioned Eurocentric systems of categorisation and racialisation, as well as their penetration into all levels of life and contemporary Western society. Her work can be seen as poetic and intimate gestures that centralise a metacosmic and inclusive approach to modernity, transforming the meaning of value and time.
Chang is a former resident of De Ateliers, Amsterdam (1999-2001) and has been an artist in residence at ISCP, New York (2007) and WIELS, Brussels (2016). Her work has been shown at the 11th Berlin Biennale; Dhaka Art Summit, Bangladesh; Mu.ZEE, Ostend; Contour Biennale 9, Mechelen, Belgium; 6th Kuandu Biennale, Taipei; Argos, Brussels; Stedelijk Museum Amsterdam, Amsterdam; Van Abbemuseum, Eindhoven; Sharjah Biennial 13, Beirut; the 1st Asia Biennial/5th Guangzhou Triennial, Guangzhou; The School of Kyiv: Leipzig Class. Seminar: Politics of Form, part of the Kyiv Biennial; the 19th Biennale of Sydney; the 11th Incheon Women Artists' Biennale, Incheon; KIOSK, Ghent; M HKA, Antwerp; If I Can't Dance, I Don't Want To Be Part Of Your Revolution, various locations; De Pont, Tilburg; Fondazione Giuliani, Rome; De Appel, Amsterdam; Marres, Maastricht; Walker Art Center, Minneapolis; Temporary Gallery, Cologne; De Vleeshal, Middelburg; 44th and 45th International Film Festival Rotterdam; Espai d'art Contemporani de Castelló, Spain; CAAC, Seville.
The A-Symmetrical Imperialistic Data Server (2018/2021)
Installation with hand-painted silk, metal frame, lamp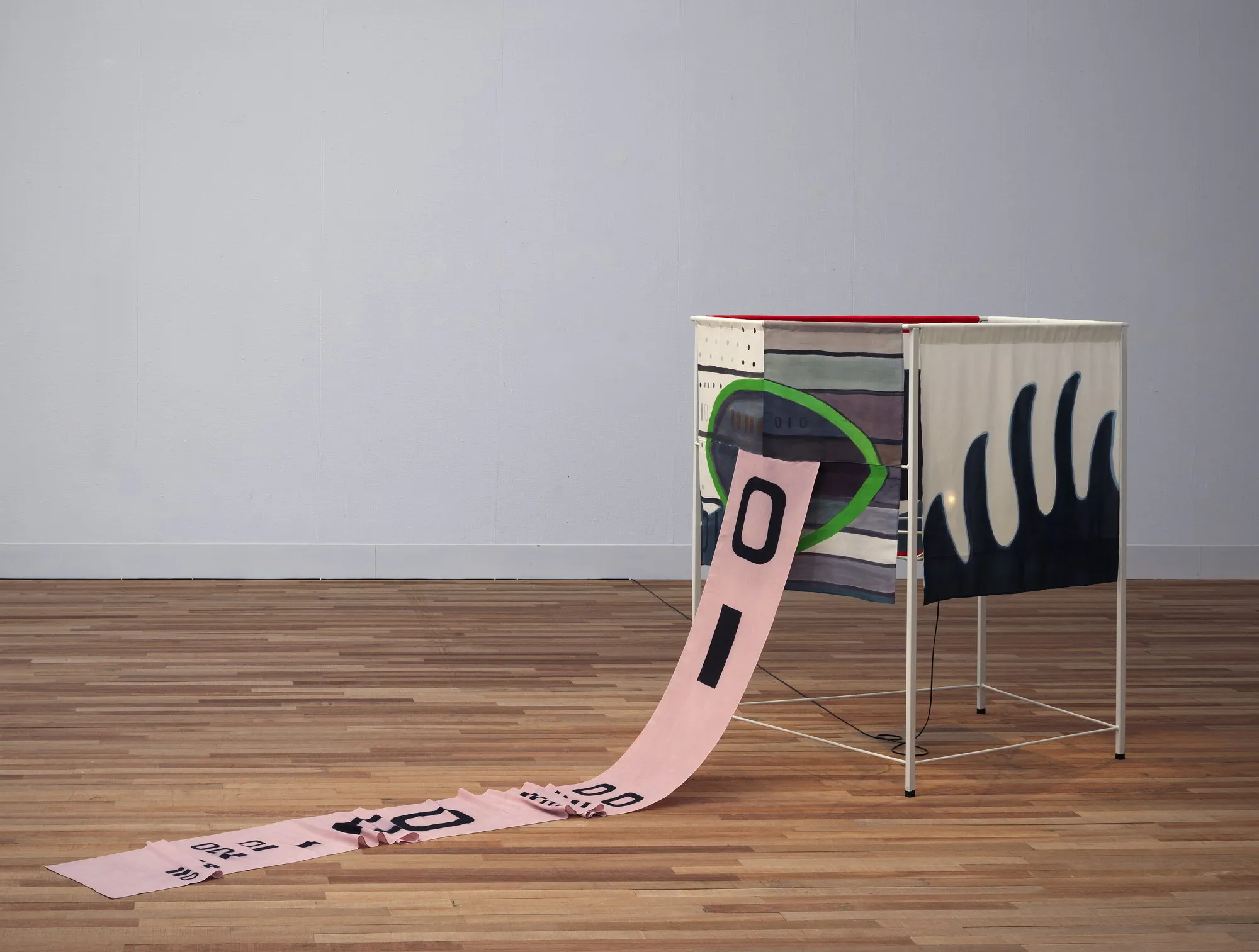 Sara Sejin Chang (Sara van der Heide), The A-Symmetrical Imperialistic Data Server (version 2018). Photo Gert Jan van Rooij, copyright & courtesy of the artist and Museum De Domijnen.
The A-Symmetrical Imperialistic Data Server consists of several pieces of hand-painted silk, mounted on a metal construction that represents a data server. The old craft technique of silk painting, often considered feminine and laborious, contrasts with the speed of production and distribution of digital images and data by internet servers. A piece of pink fabric decorated with the binary numeral system sticks out like a tongue from a green opening, as if endlessly licking up data. The server is adorned with black waves, in reference to the large amount of water needed to cool down data centers worldwide. While the installation appears to be playful and fragile at first sight, the 'asymmetry' in the title and in the work points towards serious concerns regarding the unequal distribution of energy and resources across the globe, and consequently the large (negative) impact on certain geographic areas, often far removed from the location of the internet user. 
As part of the Special Project 2020/21 at Casco Art Institute: Working for the Commons (6 Nov. 2021 – 20 Jan. 2022), the artist presented another work entitled The Mother Mountain Institute, an ongoing artwork and artistic research project that collects testimonies from mothers who have lost a child to transnational and transracial adoption. In conversation with the artist and considering the ongoing nature of the work and its open-ended long-term development, an alternative work was acquired through the Art Production | Collection Fund. 
A verbal description tour of the exhibition at Casco is available here.