Visual activist Saeeda Saeed (b. Jeddah, Saudi Arabia) has developed through her artistic practice platforms for guerrilla communication that transgress the Saudi state-controlled media. In 2015 for instance, Saeed set up a series of DIY Pirate Radio networks in tandem with underground musicians, erotic poets, nudist artists, members of the LGBTQIA+ community, and illegal immigrants transmitting over 270 hours of alternative narratives within the Saudi kingdom.
During her residency programme in 2019 – 2020 at the Jan van Eyck Academie (NL) she looked at different manifestations of her own identity as an activist by using play, performance, fiction and movement. In her recent works, Saeed has pivoted to design interventions within Twitter in response to the 2017 Saudi legislation that equalled anti-state retweeting to terrorism. Saeed created a series of counter posting strategies to drown out official state-run tweets and allow users to safely mask their IP locations. Among them are Instant Meme Noise Re-actor (2020), an object that spits out nonsensical, humorous insults to state-run accounts each time they post, and Portable Clickfarm (2019), which utilises physical movement and the human body as a disruptive tool in gaining digital autonomy.
Clapback Fury (2021)
Structure: metal and wood; digital media: internet art
88 x 94 x 0.8 cm (dance pad); 90 x 200 cm (stand)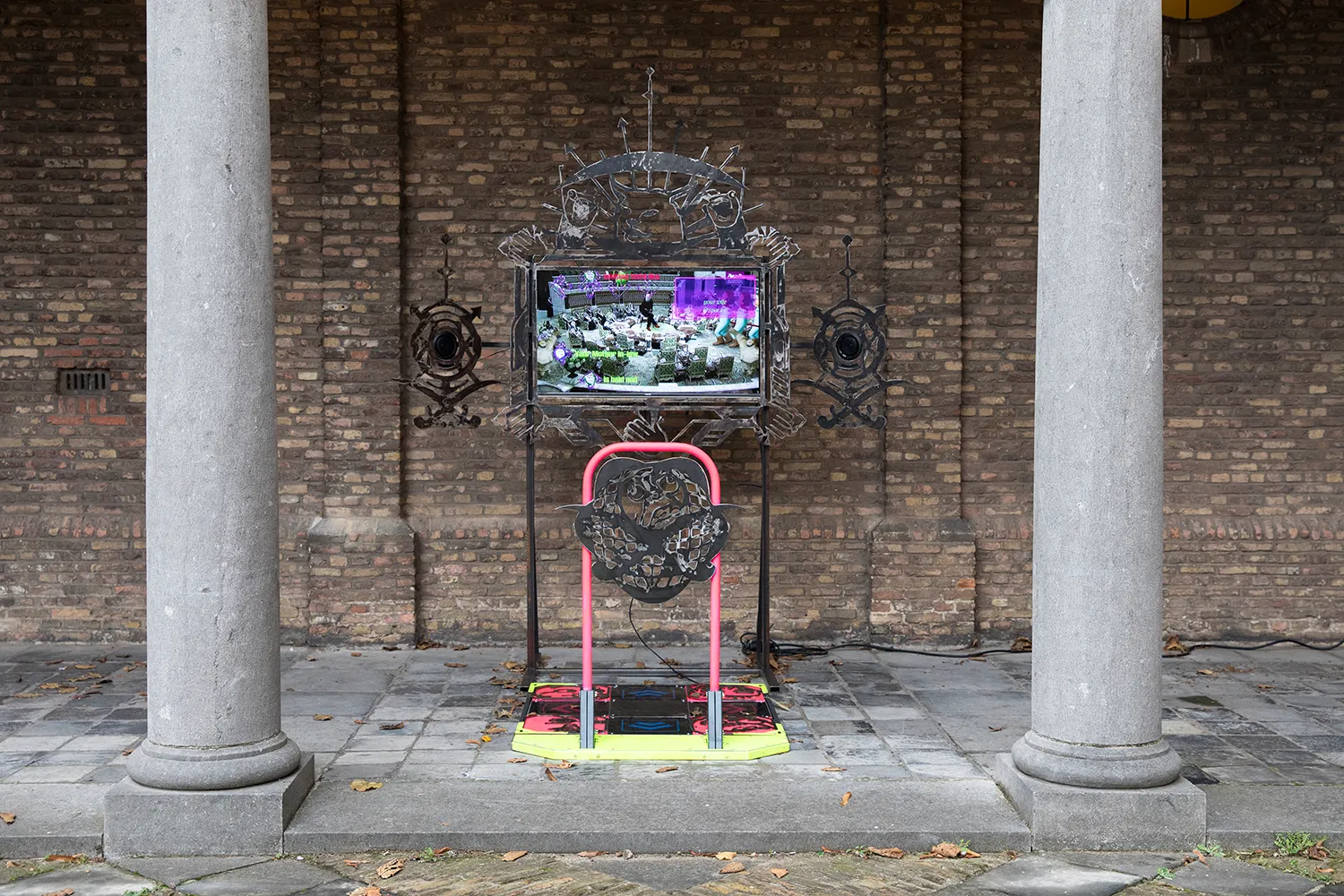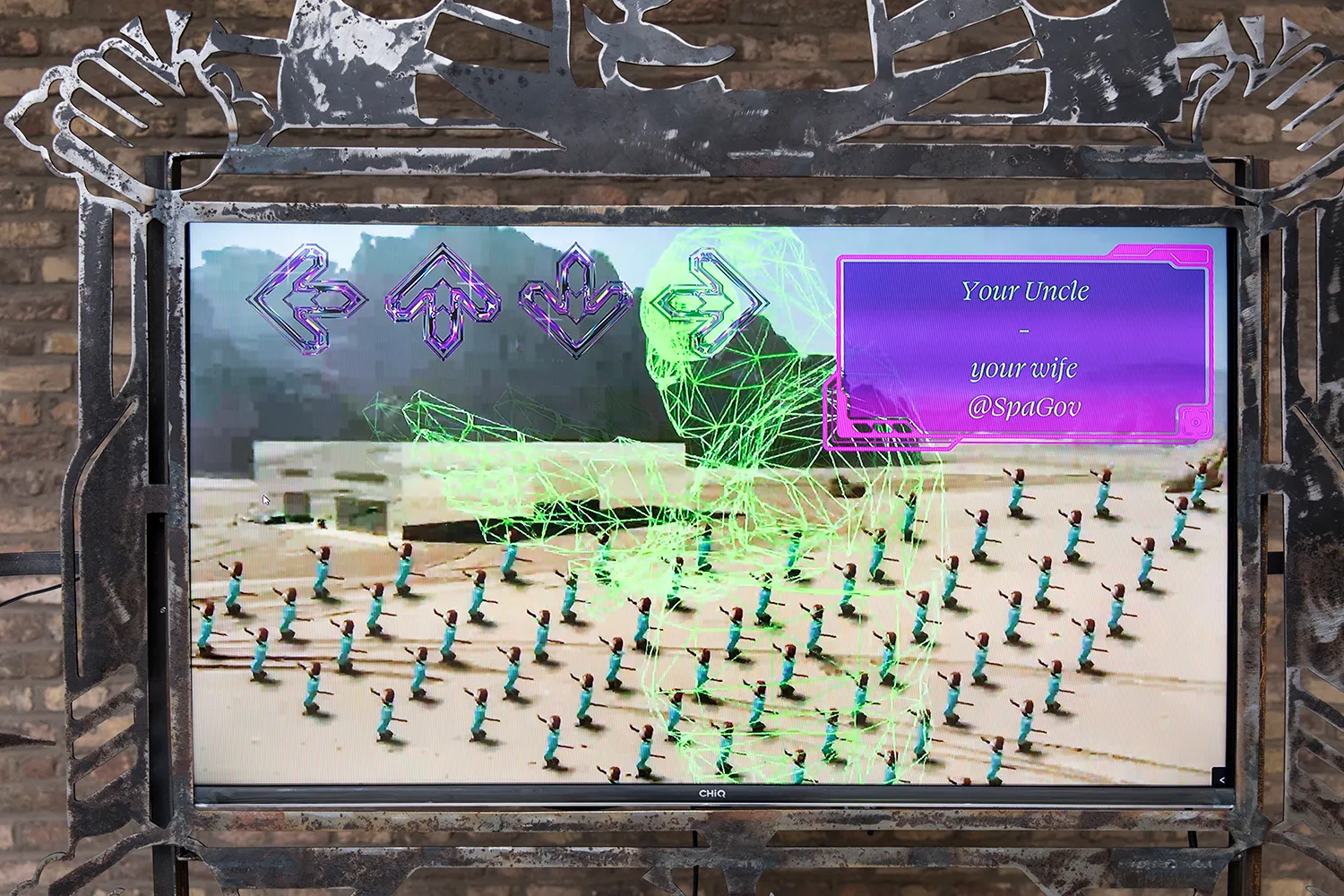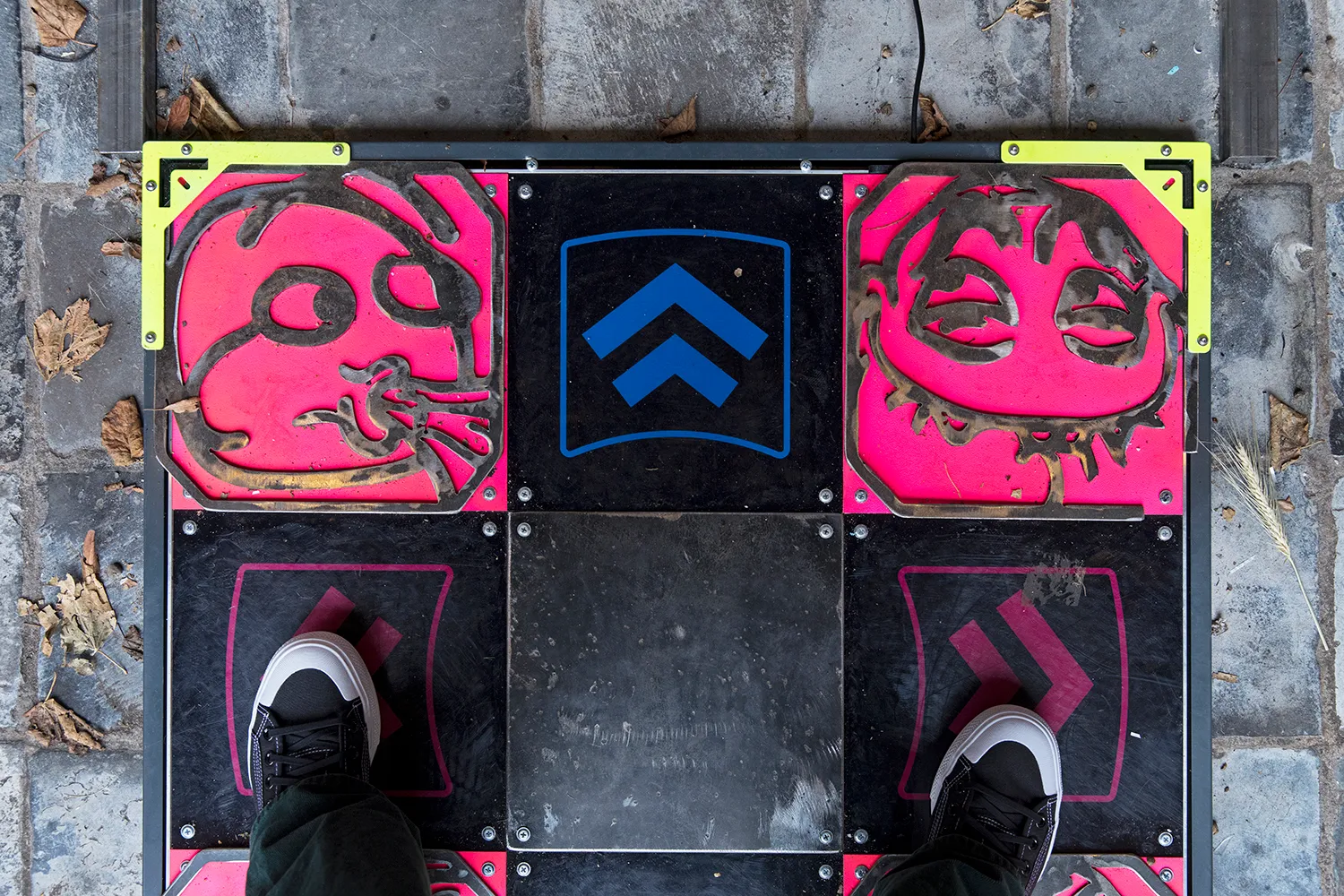 Clapback Fury is the artist's seemingly playful reaction to the restricted (internet) freedom in Saudi Arabia. In 2018, the state-supported Saudi Electronic Army created thousands of fake Twitter accounts to promote the veneration of rulers both online and offline. Similarly, in 2017, legislation was put in place where "retweeting narratives that go against the state, the royal family or religion" is seen as an act of terrorism punishable by a thousand lashes and a 10-year jail sentence. Critics, both in and out of the kingdom, face harm, with their families and friends threatened, shamed and harassed.
The work, comparable to the video game Dance Dance Revolution (Konami), aims at disturbing the well-oiled Saudi Twittersphere. When the audience steps onto the work, each step in the game produces nonsensical meme insults and directly tags Saudi state-run accounts with the intent of drowning out official tweets. Impacted by the constant loss of both physical and digital autonomy for individuals around the globe, the artist attempts to claim some semblance of control through this rhythm and dance piece. The work uses play, humour and joy as a means of release, a joy that opposes the despair of a political reality without an alternative.
Clapback Fury was exhibited at Vleeshal (Groenmarkt location, 13 Nov. – 18 Dec. 2021) as part of the Special Project 2020/21.