Monira Al Qadiri is a Kuwaiti visual artist born in Senegal, educated in Japan and currently based in Berlin. Her work explores unconventional gender identities, petro-cultures and their possible futures, as well as the legacies of corruption. In 2010 she received a Ph.D. in inter-media art from Tokyo University of the Arts, where her research was focused on the aesthetics of sadness in the Middle East stemming from poetry, music, art and religious practices. Al Qadiri is a founding member of the Gulf artist collective GCC. She was a resident at the Rijksakademie in Amsterdam in 2016/2017.
Al Qadiri has exhibited in numerous international venues such as the Haus der Kunst, Munich; the Kunstverein Göttingen; Gasworks, London; Palais de Tokyo, Paris; MoMA PS1, New York and the Expo 2020 Dubai. Her work is present in the collections of the Jameel Arts Center, Dubai and the Van Abbemuseum, Eindhoven, among others.
Future Past 3 (2023)
Rotating fiberglass sculpture
209 x 206 x 206 cm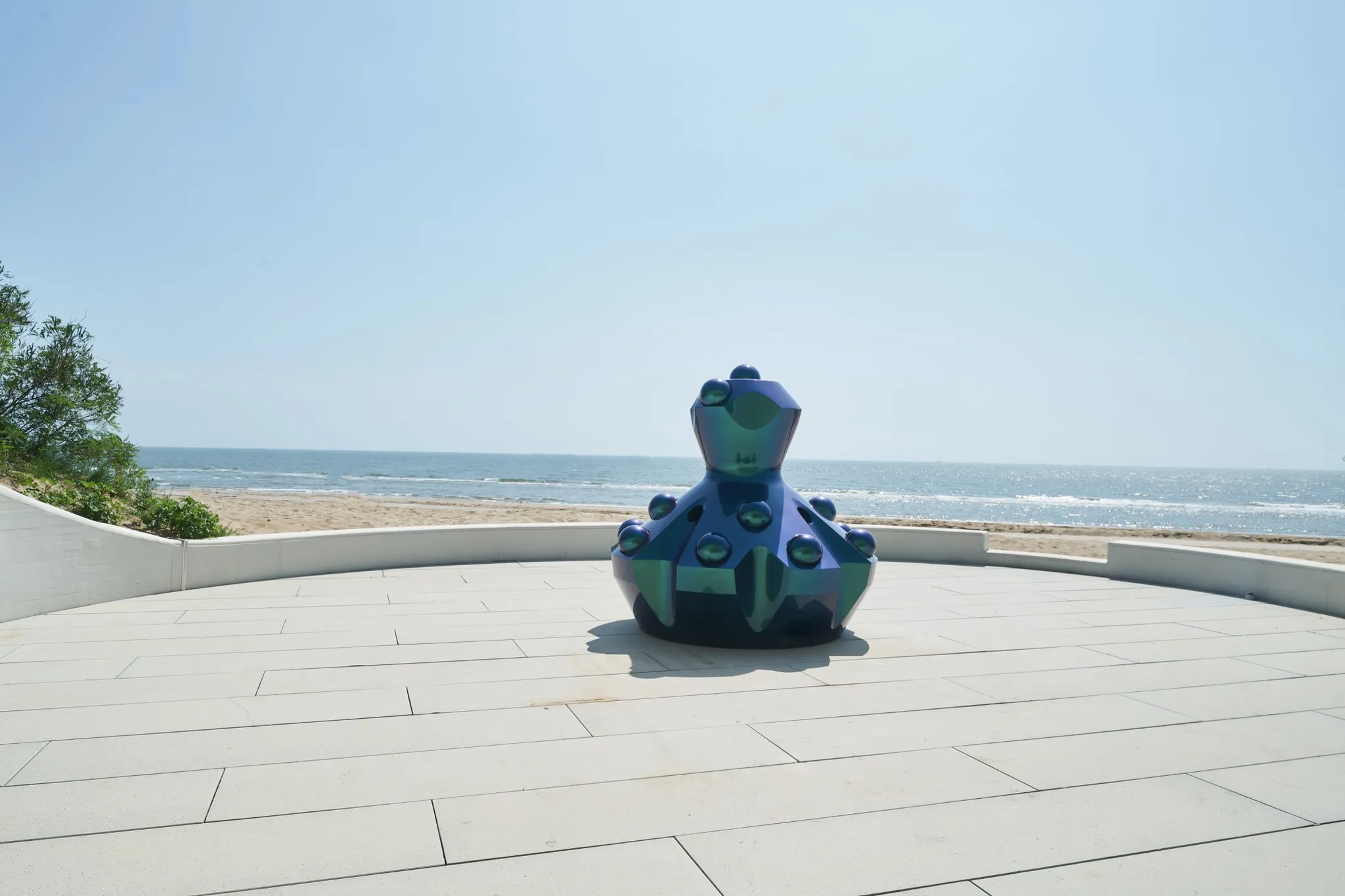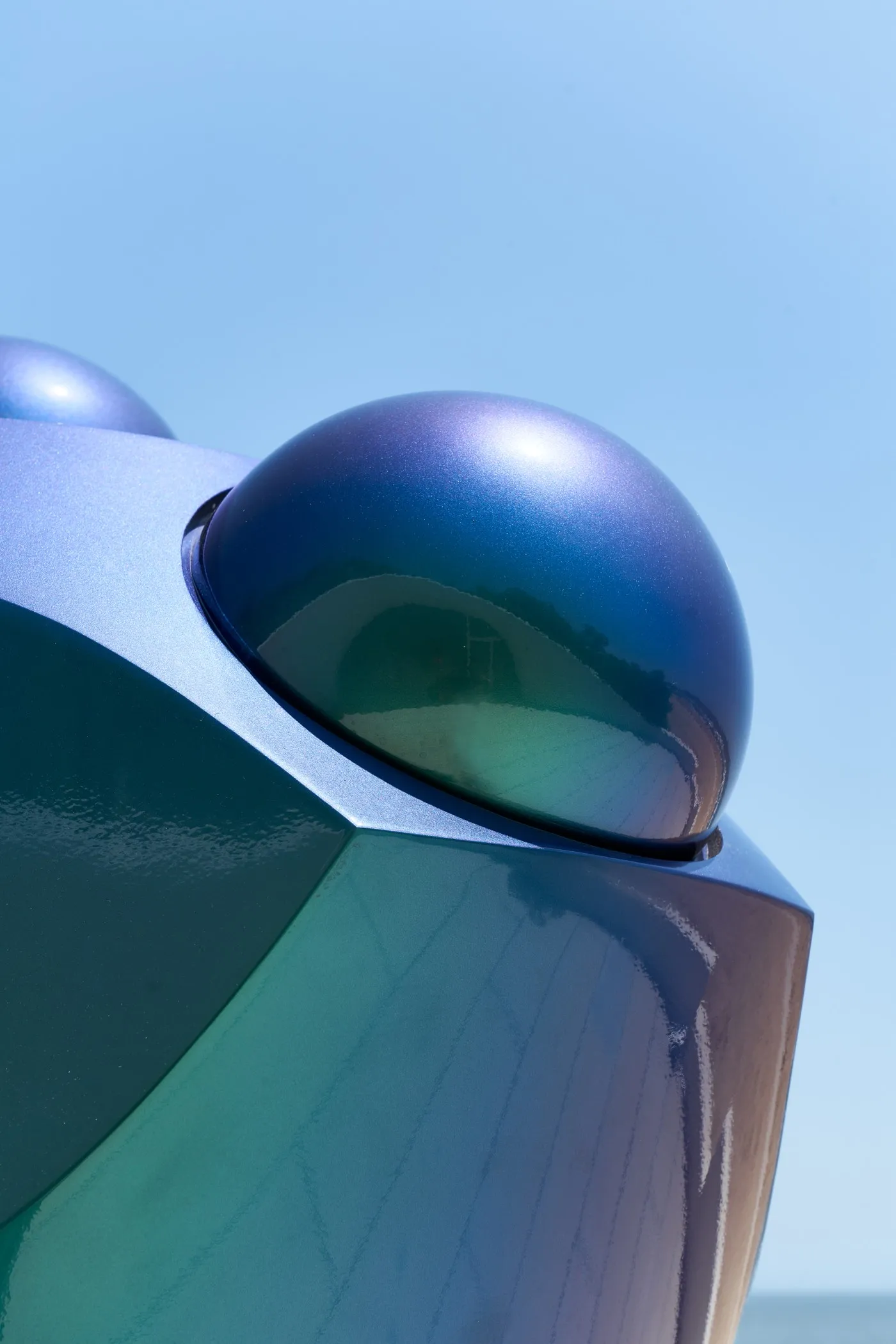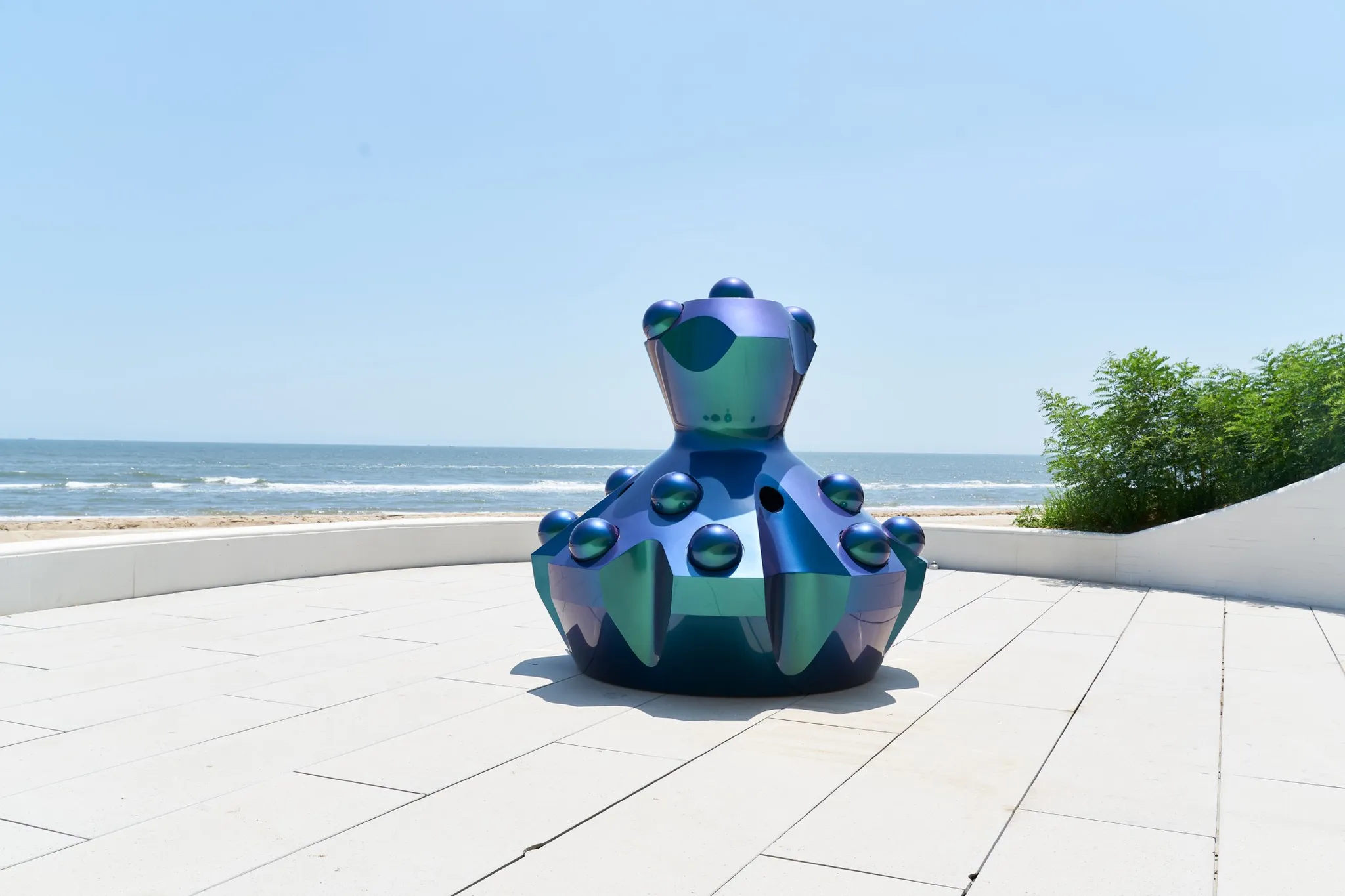 Future Past 3 is part of a group of works Monira Al Qadiri has developed and exhibited since 2020. Like the earlier objects exhibited at the General Blumenthal Coal Mine for Urbane Künste Ruhr (2021), this vast shimmering object revolves around itself. The object looks as if it could be a machine from the future in pristine, unused condition, or an extraterrestrial creature from a sci-fi film. In fact, however, the sculpture is a large-scale reproduction of a drill bit used in the oil industry. The iridescent lacquer gives it a color reminiscent of the spectrum of the black gold, or of pearls. Long before the discovery of oil, pearl diving was the most valuable sector of Kuwait's economy. However, crude oil has long since provided the economic foundations of the country in which the artist grew up. As a commodity it is ubiquitous, but the technology and processes of its exploitation are barely visible to the public (more here).
The tool symbolises the growth (and potential death) of nations, cultures and economies, which Al Qadiri presents as a possible machine from the future or an extra-terrestrial creature from a sci-fi film. I strongly believe that the acquired work, the artist's global perspective and her formal sensitivity will contribute uniquely to the 'Rijkscollectie'.

— Philip Tinari
The first presentation of Future Past 3 takes place at UCCA Dune as part of the exhibition Monira Al Qadiri: Haunted Water, on view until 8 Oct. 2023.
The work was selected by the Commissioning Committee 2021/23 and acquired through the Hartwig Art Production | Collection Fund. It will subsequently be donated to the Dutch state, becoming an integral part of the national art collection ('Rijkscollectie'), available for institutions in the Netherlands and abroad.