Meriem Bennani is a Moroccan artist currently based in Brooklyn, New York. Born and raised in Rabat, Morocco, she earned a BFA from The Cooper Union, New York, in 2012, and an MFA in Animation from the École Nationale Supérieure des Arts Décoratifs in Paris.

Bennani has been developing a shape-shifting practice of films, sculptures and immersive installations that are composed with a subtle agility to question contemporary society and its fractured systems, individual identity, and the ubiquitous dominance of digital technologies. She often publishes her work on social media platforms such as Instagram and Snapchat.
Bennani's work has been featured in solo and group exhibitions at The Kitchen, New York; Fondation Louis Vuitton, Paris; the Whitney Biennial, New York; MoMA PS1, New York; and the Renaissance Society, Chicago, among others. Her work is part of the collections of the Museum of Modern Art, New York; Guggenheim Museum, New York; Whitney Museum of American Art, New York; Musée d'Art Moderne de Paris; Fondation Cartier, Paris; Julia Stoschek, Berlin; and the Kadist Foundation, Paris.
Life on the CAPS (2018-2022)
Single-channel video
Approx. 75 min.
Edition of 5 + 2 AP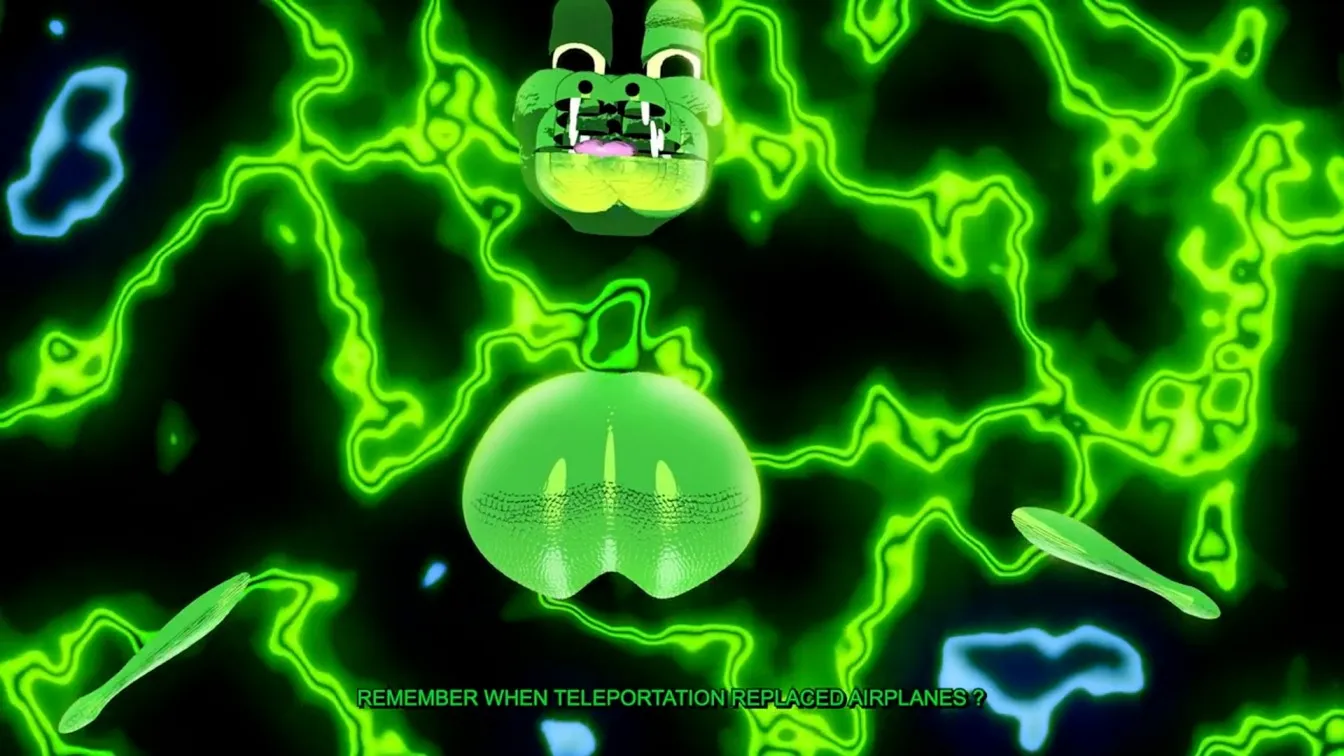 Meriem Bennani, Party on the CAPS (still), Biennale of Moving Image (2018). Courtesy of the artist and BIM 2018
Life on the CAPS includes the three episodes Party on the CAPS (2018-2019); Guided Tour of a Spill (CAPS Interlude) (2021); and [To Be Titled: CAPS 2] (2022), which were created over the course of four years. In Life on the CAPS, Bennani depicts a speculative future world where teleportation has replaced air travel and changed the grounds for legal and illegal immigration.
CAPS is a fictional island located in the middle of the Atlantic Ocean, a limbo territory where displaced populations that attempted 'illegal' teleportation are intercepted by US authorities and placed in detention camps for generations. In the work, Bennani oscillates between animation and live-action footage while borrowing from various genres such as science fiction, reality TV and music videos. Life on the CAPS turns into a dystopian allegory of migration and statelessness, a near-future scenario that seems at times comical but also plausible.
Life on the CAPS is a magnum opus of Bennani's genre-bending practice, taking to the next stage her ability to integrate dual-purpose story lines that carry both entertainment and analogy. 

— Myriam Ben Salah