Dutch visual artist Mariëlle Videler works across media, creating installations, drawings, objects, videos and performances. Based on the belief that all organisms have equal value, she creates a pathway through the textures of the world. She explores a new, intensive way of feeling, perceiving and acting, identifying herself with a traveler who makes physical, but above all, imaginary journeys.
She has for the past ten years conducted intensive research into the knowledge, ideology and craft of Indigenous cultures such as the Colombian Kogi and the Inuit of Greenland. Her practice and work are a sensory search for consciousness and physicality.
Videler studied at the Academy for Visual Arts, Tilburg, and the Fine Arts Department of the Sandberg Institute, Amsterdam. Her work has been exhibited at artist initiatives, galleries, museums and festivals around the world, such as Today Art Museum, Beijing, International Sinop Biennial (Turkey), MASP and Galeria Vermelho, São Paulo, Brazil, FLORA ars+natura in Bogota, Institut Néerlandais, Paris. She was the founder and artistic director of the Amsterdam based initiative Performance Lab from 2004 to 2012, a collective research lab for performance art.
365 PLANTS (2020-2021)
Acid free paper, ink-wash
The installation includes an essay, a photo presented on mobile device and 3 seats
Mounted on a 15.45 x 2.44 x 0.9 m wall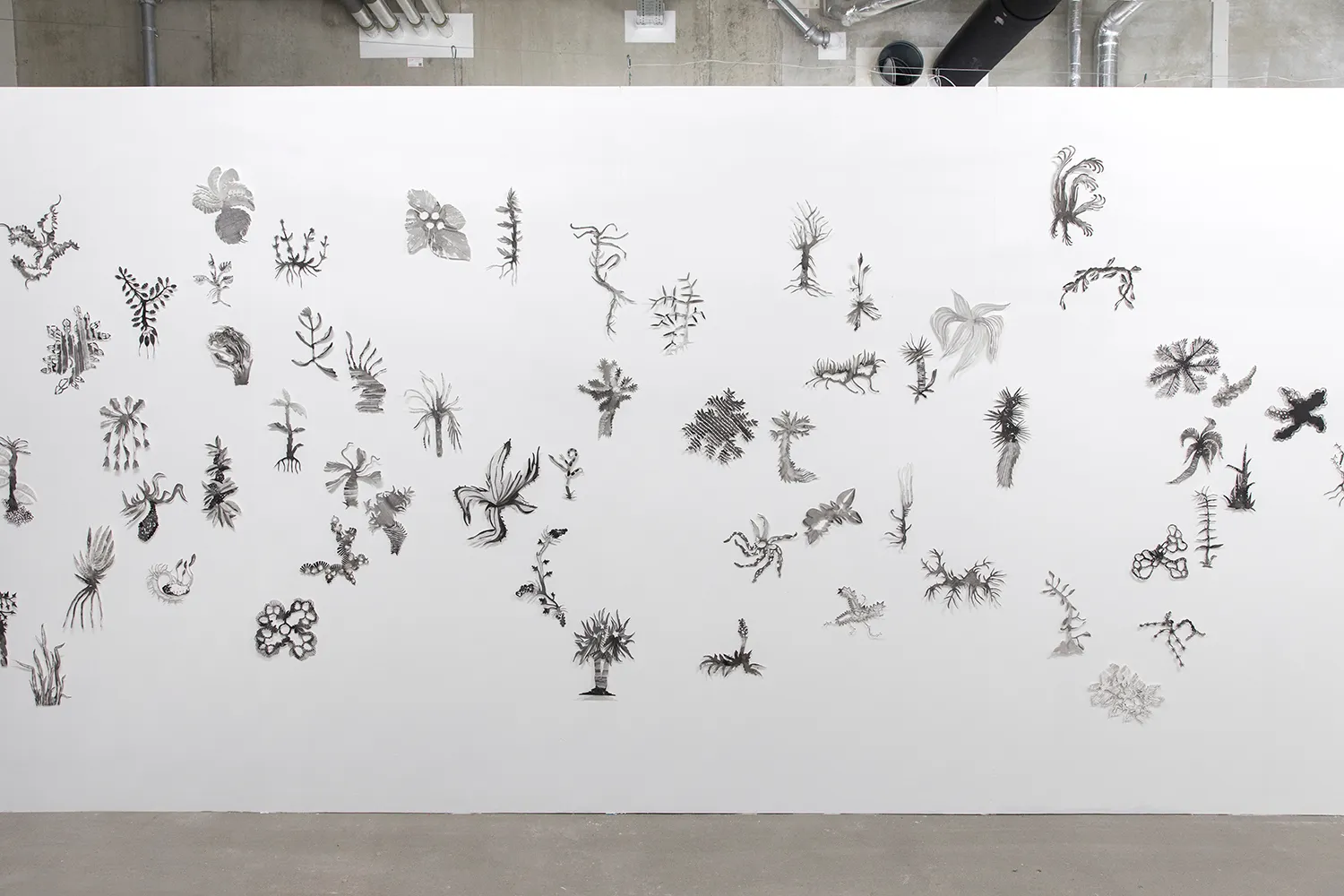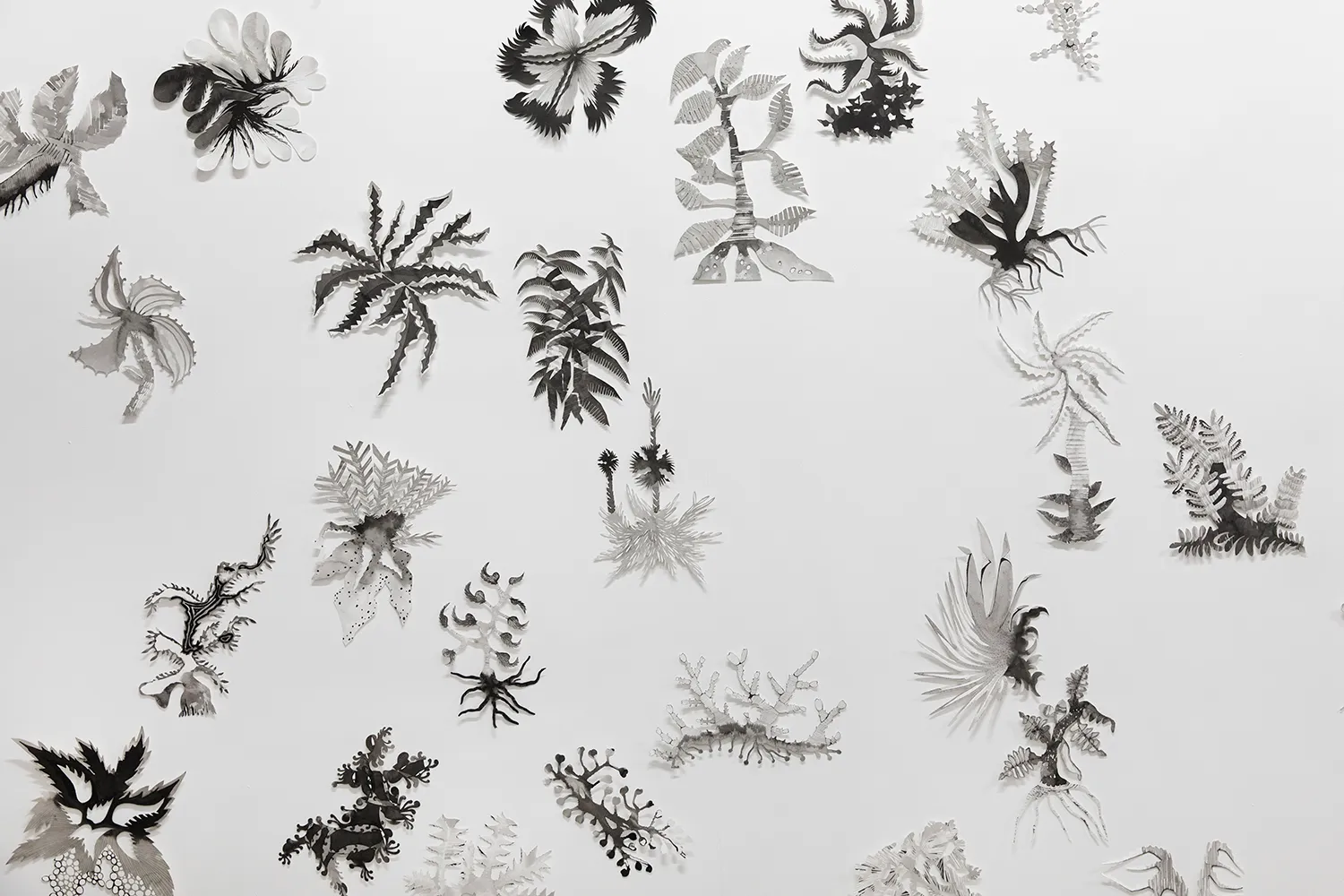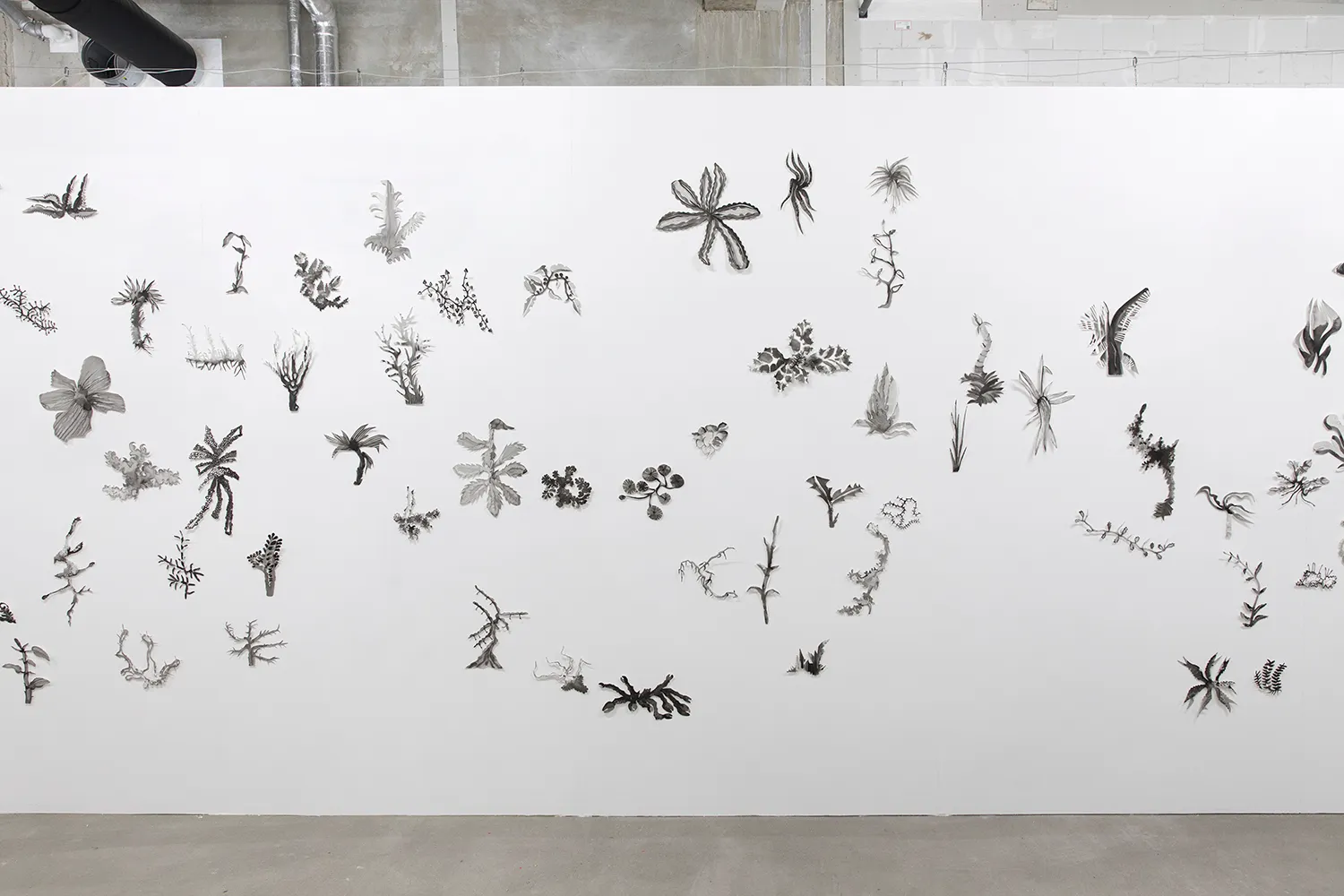 365 PLANTS is the outcome of a year-long collection of intricate, almost extraterrestrial plants that Videler created not by looking or thinking of a plant, but by using small scissors and black ink to slowly sense the plant.
The work is part of an ongoing project that consists also of 365 BIRDS & 365 INSECTS. By creating every day and by using direct and elementary techniques such as drawing, cutting, and ink-washing, Videler wants to reconstruct the senses. She shares her imaginary post-human reality with the visitors with the aim of strengthening our relationship with the world around us.
The installation was exhibited in the context of the Special Project 2020/21 at the depot of Travelling Farm Museum of Forgotten Skills (6 Nov. – 19 Dec. 2021) as part of the programme of Casco Art Institute. A verbal description tour of the exhibition is available here.