Mariana Castillo Deball was born in Mexico and currently resides between Berlin and Mexico City. Her chimerical, changing practice incorporates various mediums such as sculpture, film, photography, drawing, ceramics, print making and book making. Her installations and research-based projects often include objects that take on the role of theater or opera characters that have been removed from their times and circumstances in order to convey meaning through new contexts. In her practice she acknowledges and explores how stories are performed and retained in museums, while making visible practitioners and makers whose histories have long been obscured. Her work also highlights collaborations and the knowledge exchanges that occur by experimenting with its modes of (re)production. 
After completing a Master of Fine Art from the National Autonomous University of Mexico in Mexico City, Castillo Deball undertook the postgraduate program of the Jan van Eyck Academie, Maastricht in 2002–03. Castillo Deball's recent solo presentations include the Modern Art Oxford, England (2020); the Monash University Museum of Art, Melbourne (2019); the Witte de With Center for Contemporary Art, Rotterdam (2019); the New Museum, New York (2019); the Reva and David Logan Center for the Arts, Chicago (2018); and the Museo Amparo, Puebla, Mexico (2018). Group exhibitions include the Sharjah Biennial 13 (2017); the 32nd Bienal de São Paulo (2016), the Aichi Triennale (2016); the Liverpool Biennial (2016); the 8th Berlin Biennale (2014) and dOCUMENTA (13), Kassel (2012). In 2013, she was awarded the Preis der Nationalgalerie of the Staatliche Museen zu Berlin, resulting in her major exhibition Parergon at Hamburger Bahnhof – Museum für Gegenwart – Berlin in 2014. Alongside her artistic practice, Castillo Deball has been a professor at the Academy of Fine Arts Münster, Germany since 2015.
By the position of your heart IT WILL BE KNOWN WHERE THE MIDDLE PLACE IS (2021)
8 ceramic vessels & black cotton rope
approx. 35 x 35 x 35 cm (per vessel) & 1000 cm (rope)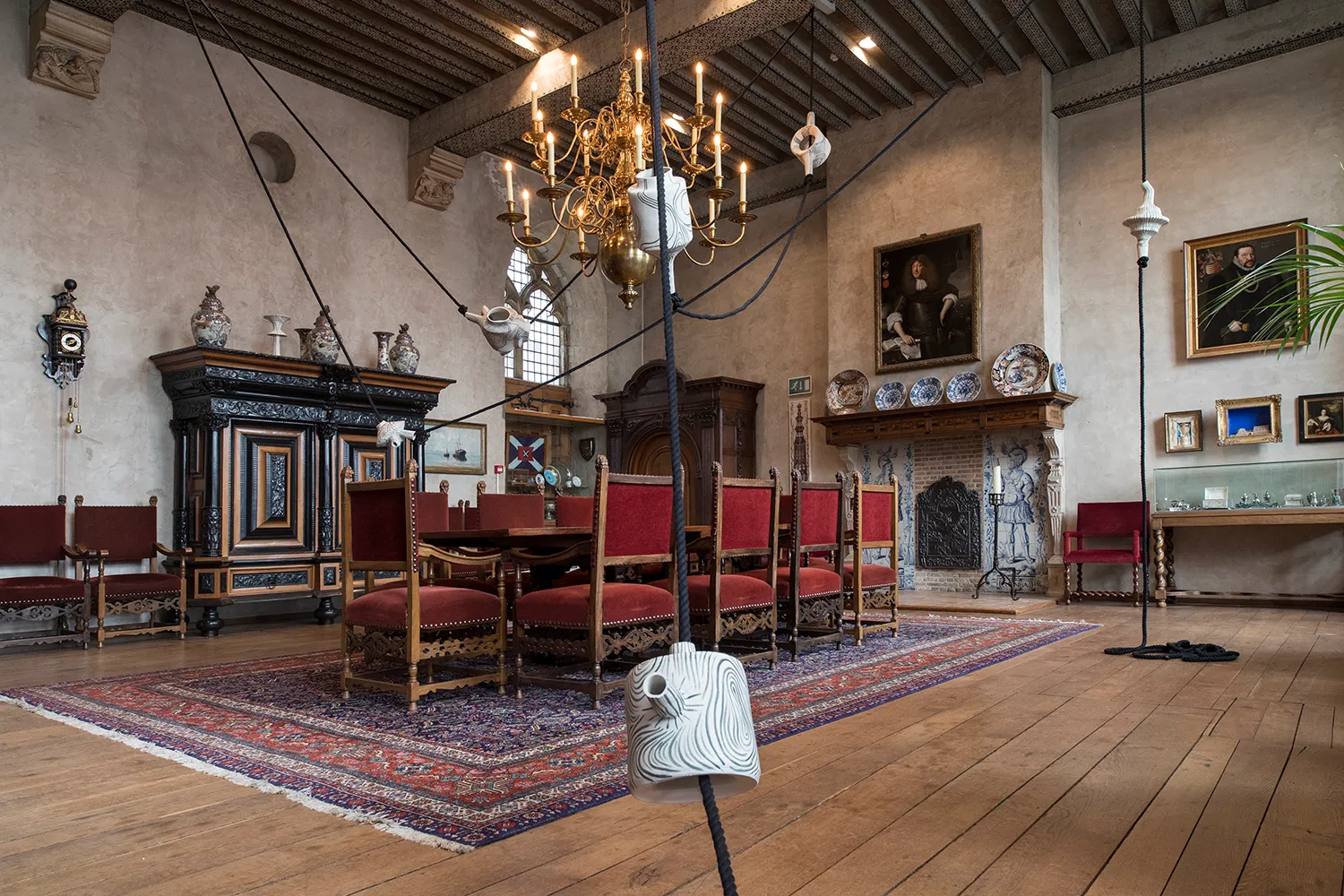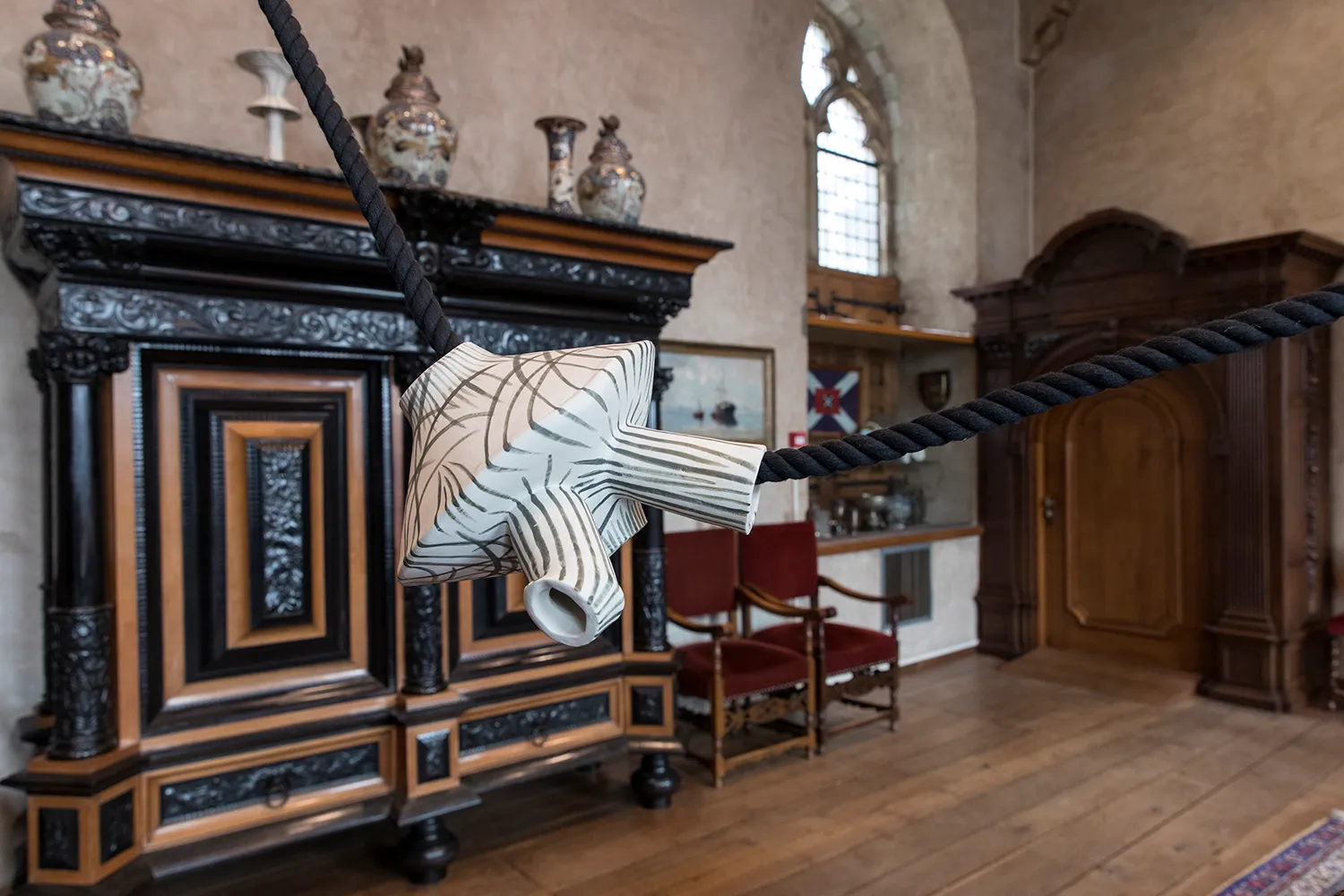 The ceramic pieces in the suspended installation By the position of your heart IT WILL BE KNOWN WHERE THE MIDDLE PLACE IS by Mariana Castillo Deball resemble what archeologists call 'kill holes', or ancient pottery vessels that have perforations at their base. This deliberate removal of a receptacle's function as a container is found to be a common practice, used for traditional burial rites in the American Southwestern region. Deball further manipulates these forms to create five imagined pieces connected by a rope, while also incorporating her 1998 sculptural investigation of the Klein bottle, a mathematical object that has no inside or outside. This formalistic exploration of ceramics is paired with Deball's extensive research and mediation in science, archaeology, and the visual arts, specifically on how these disciplines describe the world.
By the position of your heart IT WILL BE KNOWN WHERE THE MIDDLE PLACE IS was initially exhibited in the 16th century Middelburg Town Hall, a temporary side exhibition space of Vleeshal (8 Dec. 2021 – 27 Feb. 2022), as part of the of Special Project 2020/21.